In 2018, in Wellington, an annual series named the Russell Kerr Lecture in Ballet & Related Arts was established to honour the celebrated and loved father figure of ballet in New Zealand. [The series' title was borrowed from the Lincoln Kirstein lecture in Ballet & Related Arts annually offered at New York University. We were particularly inspired by their 2016 presentation by Ian Bostridge on Song & Dance ... it's online, and well worth listening to].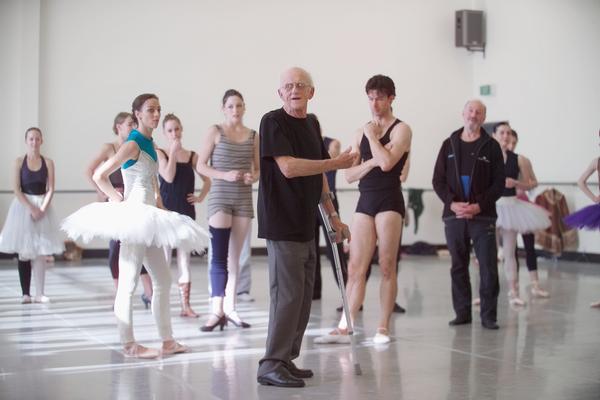 In 2018 our inaugural lecture was delivered by Dr Michelle Potter, dance historian and writer from Canberra, who gave an insightful profile of the life and work of costume and set-designer Kristian Fredrikson, local Wellington boy made good, with a prolific career both in New Zealand and Australia. (The book resulting from Michelle's many years of research is to be published by Melbourne Books, in July/August 2020).
Each of our sessions opens with a cameo dance performance which in 2018 was Loughlan Prior's Lark, a tightly-stitched witty duet, a bespoke choreography for Jon Trimmer (longstanding colleague of Fredrikson) and William Fitzgerald—the older dancer savouring decades of memories and moves, the younger dancer questing to catch them. Piano accompaniment (Glinka, Rachmaninoff, Borodin ) was by Dr Hamish Robb, and Beth Chen, members of staff at Te Koki/New Zealand School of Music, which is the venue for the event.
In 2019, Dr Ian Lochhead's account of the Ballets Russes visits to Australia and New Zealand in 1937 and 1939, opened with the poignant Prelude from Les Sylphides danced by Taylor-Rose Frisby from New Zealand School of Dance—and The Swan by Abigail Boyle, until recently leading artist with Royal New Zealand Ballet. Accompaniment was by Hamish Robb, piano, and Inbal Megiddo, cellist. Ian is planning to publish a longer article to be developed from his script.
On 9 February 2020, I delivered the third lecture: Douglas Wright—dance-maker, time-keeper, meteor. Tracing metaphors in the work of dancer, choreographer, writer Douglas Wright, 1956–2018.
The opening dance performed was a menuet danced by Anne Rowse and Keith McEwing, to menuets 1 & 2 from the Partita no.1, J. S. Bach, played by Hamish Robb. The lecture began with my story of an encounter with Wright:
Douglas Wright pressed me to show him how the technique and music of baroque dance worked, sensing it as a seeding ground for much of ballet's vocabulary. His dance intelligence and curiosity were like nothing I've ever encountered, so we explored the different accents and interactions that give character to a beguiling menuet, cheerful bourrée, courageous chaconne, flirtatious gavotte, madcap passepied, saucy gigue, majestic courante, tender sarabande.
Douglas liked their effects of distilled emotion, so to remember that, and him, the session opened with a menuet. Typically composed in pairs, the first, major, the second, minor, then back to the major, menuets are in triple-time, stepped in counter-rhythm to the music (2 + 4 against 3 + 3), with further asymmetry between phrase lengths. A subtle pull between movement and music—we want to see resolved, to see how two things can become one.
The handhold central to its 'narrative'—right, then left, then both—signals a greeting, a conversation, a friendship. We know how to dance a menuet thanks to notation by English dancing master Kellom Tomlinson. The earliest European dance resource in New Zealand is a 300 year old ms. workbook by the same Tomlinson, gifted to the Alexander Turnbull Library through the generosity of the Trimmer family.
Our plan was that Jon Trimmer would dance with Anne Rowse, but once rehearsing, it became clear that Jon's long-standing ankle injury would prevent him from enjoying the experience. The initial injury from years back didn't stop him dancing then but he has carried it ever since, a price that dancers often pay. Keith McEwing stepped up to take Anne's hand on the upbeat, because passing the baton is what dancers do.
In the following lecture I read a number of excerpts from Douglas' writings, what he called 'autobiographical fiction', Ghost Dance (Penguin 2004) and Terra Incognito (Penguin 2006), and from his two volumes of poems, published by Steele Roberts, Laughing Mirror and Cactusfear. Video illustrations were sourced from the documentary Haunting Douglas, made by Leanne Pooley in 2003. The film is an award-winning profile of the work and life of arguably New Zealand's leading performer and dance-maker, a legend in his lifetime whose astonishingly prolific output will be remembered for decades to come. Haunting Douglas is available on Vimeo, or for purchase from Spasifik Films, and is highly recommended viewing.
Planning is already under way for the next lecture in the series which will be held on Sunday 10 February 2021, with details of topic and presenter to be confirmed.
Jennifer Shennan, 19 February 2020
Featured image: Portrait of Russell Kerr, 2007