21 August 2015, Playhouse, Queensland Performing Arts Centre, Brisbane
Natalie Weir can always be relied upon to present works with highly physical choreography and with design that is usually minimal but always effective. Her most recent production for Expressions Dance Company, 7 Deadly Sins, is no exception. The choreography is powerful and sometimes turbulent, the lighting by David Walters is dramatic, and the design by Bill Haycock is in some cases lush and sumptuous, in others totally stripped back. A bold, commissioned score from Darrin Verhagen completes the collaboration.
Weir has set out to examine human nature through an exploration those 'vices' that, since early Christian times, have been  classified as 'deadly sins'—sloth, greed, gluttony, lust, envy, pride and wrath. Each sin makes an appearance by emerging from a box—each box is uniquely shaped and accommodates the dancer in a different position. Initially the sins wear a gorgeously designed costume created by Haycock from a range of fabrics, mostly gold and black in colour, with metallic and bejewelled highlights. These costumes look fabulously dramatic as the sins emerge from their boxes. But each sin quickly discards his or her luxurious outer garment in order to represent the sin in a physical manner. An eighth character, the Man, has a role that is a little unclear, although he interacts with the sins throughout and gives the piece, which really has no leading character, a kind of coherence.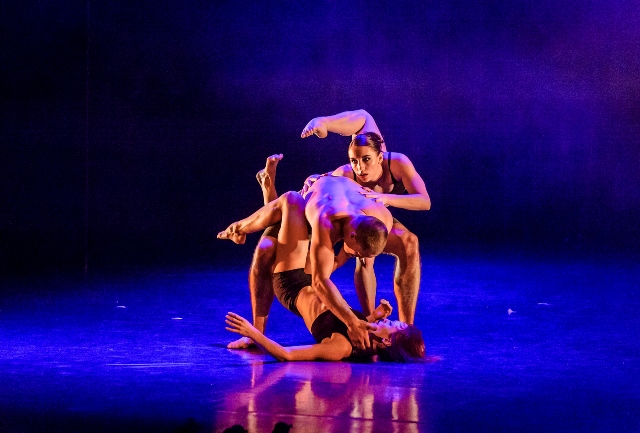 The standout sins for me were Pride, danced with exceptional stage presence by Benjamin Chapman, and Wrath, strongly, even wrathfully, performed by Michelle Barnett. There was absolutely no doubt about which sin they represented. The body said it all. I also admired Daryl Brandwood as Greed, not only for his articulate dancing, but also because his vast performing experience made his interpretation a multi-faceted one. In fact, the choreographic highlight for me was a duet between Brandwood and Chapman in which their characters seemed to be competing for dominance. And remarkably this competitive sparring took place inside, on top of, and around one of the boxes. The duet was a powerful display and something of a tour de force with the tall, narrow box tilting alarmingly at times. It was, nevertheless, beautifully manipulated and managed by the dancers.
This is an interesting work from Weir who most often deals with storytelling in which people are at the centre of the work. With 7 Deadly Sins we are, on the other hand, looking at a collection of temperaments or intangible ideas. Perhaps the weakest aspect of the show was that not all the dancers were able to portray these non-human characters so easily. Or at least not able to make an instant impact. As a result, in some cases I found myself wondering for a few minutes which sin was being portrayed. I am often reminded of Agnes de Mille who maintained that a dancer had just 30 seconds after making an entrance to also make an impact in order to keep the audience's attention.
Michelle Potter, 25 August 2015