19 August 2015, Drama Theatre, Sydney Opera House
Sylvie Guillem is an extraordinary dancer, no doubt about it, and her farewell show of four very different works demonstrated her astonishing capacity as a performer. But what emerged most clearly for me was that Guillem is first and foremost a ballet dancer. Her body, with its flexibility, slender frame, beautifully arched feet, impeccable 'turn-out', and limbs that extend seemingly forever, is so perfectly suited to the vocabulary of ballet that, whatever other dance style she is performing, she makes me long to see her dancing in a ballet again. Guillem has, for the last ten years or so, focused on contemporary dance and, while I have every respect for her desire to work that way, it is a little sad that not all of the movement we see in her farewell show does justice to her qualities as a dancer.
The program opened with technê choreographed by Akram Khan. Its setting was instantly attractive—a silver mesh tree positioned centre stage and surrounded by a circle of light. Across the upstage area sat a dimly-lit orchestra of three, composer Alies Sluiter (voice, laptop and violin), Prathap Ramachandra (percussion), and Grace Savage (beatbox). And the live soundscape they produced was thrilling.
But, watching Guillem emerge from the darkness in the opening moments—our first sight of her—only to scuttle around the circle of light on all fours like an insect was not thrilling. Sure she scuttles brilliantly and every inch of her body scuttled. But for me it was an uninspired opening moment and it was hard to maintain interest in the movement of technê from then on.
Then followed William Forsythe's DUO2015, remade from his 1996 DUO and danced by two men, Brigel Gjoka and Riley Watts, to a very sparse score by Thom Willems. They danced together and apart, at times with panache and bravura, and sometimes with a kind of throwaway attitude. It was a communication between friends. They sometimes mirrored each other in their movements, and at other times they maintained their differences—a diverse dancing communication, and a wonderful one.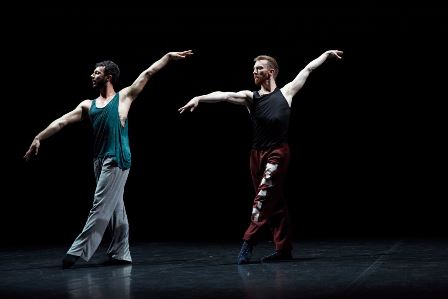 The last piece before intermission was another duet, Here & After, this time danced by two women, Guillem and Emanuela Montanari. Choreographed by Russell Maliphant to music by Andy Cowton, it was pleasant dancing, often sculptural and having a light touch towards the end when the Cowton score included the sounds of a yodelling voice. It was enhanced by a strong lighting design from Michael Hulls, a constantly changing chessboard of squares of light. It added a hard-edged quality that sat well against the softness of the choreography.
By far the most satisfying piece, however, was the closing item, Bye, with choreography by Mats Ek and danced to Beethoven's Arietta from his Piano Sonata Opus 111. The choice of music was an inspired one given its position in Beethoven's oeuvre, Opus 111 being his last piano sonata, and given the inventive nature of the Arietta within it.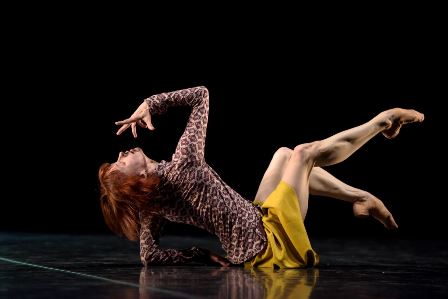 In Bye we first see Guillem peering through a keyhole of a door positioned upstage, which eventually becomes a screen for the projection of filmed images of people and animals. As Guillem emerges from behind this door/screen and begins to dance, Ek's choreographic style is instantly recognisable. Guillem crosses the stage with long, loping walks, shoulders slightly hunched and head pushed forward. From then on she engages in a variety of moves that often seem to be an examination of the world, including one quiet moment when she stands on the side of the stage and surveys the space. At one point she stands on her head, legs spread in a kind of upside down 2nd position plié. Finally, she joins a growing crowd of men, women, children and dogs who appear in film on the door/screen. In the closing moments she joins them and walks into the distance.
Life in Progress was an interesting experience, and it certainly made me more than aware of Guillem's astonishing abilities. But I would rather watch beetles scuttle and a clown stand on his (or her) head and watch Guillem dancing a ballet. I feel very lucky to have seen her during her ballet days and, in particular, will always carry with me treasured memories of the most moving Giselle I have ever seen—Guillem's own production (with Guillem in the lead) for Finnish National Ballet in Paris in 2001.
Bye. Or is it au revoir?
Michelle Potter, 22 August 2015
Featured image: Sylvie Guillem in Akram Khan's technê. Photo: © Bill Cooper