Ballet and fashion, an exhibition curated by Roger Leong as a joint venture between the National Gallery of Victoria and the Australian Ballet, is a mini-feast for the eyes. It is a small exhibition with just twenty-one costumes, several headdresses, a face-mask, and seven designs on paper. But the material gives an enticing glimpse of how designers whose work has been primarily in the field of fashion have collaborated in the production of dance.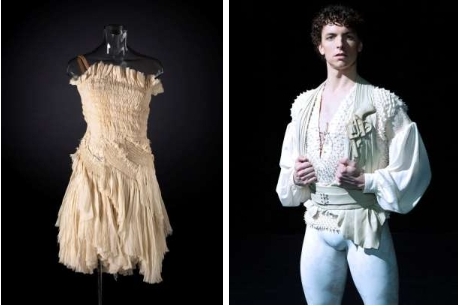 The show is complemented by a compilation of footage showing extracts from five works: Romeo and Juliet (Graeme Murphy), 2 Lips and Dancers in Space (Robert Wilson/Makram Hamdam), Divergence (Stanton Welch), Aviary (Phillip Adams) and Tutu Parade (Adrian Burnett). The latter was part of another 'tutu initiative' that culminated in Tutu: designing for dance, an exhibition shown at the Ian Potter Centre, National Gallery of Victoria in 2004–2005. The footage is an excellent addition giving the viewer the opportunity to see how (or if) some of the costumes we see in display cases move (or don't) with the body. It is good quality footage too and shown on a large screen.
The exquisite, detailed work of Akira Isogawa is represented in the first room with three costumes from Graeme Murphy's Romeo and Juliet. But the surprise is the inclusion of two dresses from Grand, Murphy's deeply moving work made in 2005 in memory of his mother. The dresses from Grand are beautiful to look at close-up, which of course we don't get the opportunity to do when we see them onstage. Delicate, intricately decorated, ruched and layered, gently coloured and made from ivory-coloured fabric, with one of them showing touches of gold decoration, they highlight the detail and care Isogawa puts into his work.
Another of Isogawa's techniques that is hardly noticeable from the auditorium but that is a delight to see close-up is his use of delicately patterned fabric. The skirt of Lady Capulet's dress for Act I scene iii in Romeo and Juliet, for example, has an overlay patterned with a feather design. Romeo's tights are also patterned. And it is interesting to see close-up Isogawa's use of Japanese techniques of manipulating fabric on the sleeves of Lady Capulet's shrug and Romeo's doublet. And I must admit I didn't notice while watching the work onstage that Romeo carried a built-in pistol on his chest.
I was also taken by two black 'bird' costumes: Giles Deacon's black tutu commissioned in 2010 by Harper's Bazaar on the occasion of the sixtieth anniversary of English National Ballet, and a costume from Act I of Aviary a recent work by Phillip Adams. The Deacon tutu, with its traditional shape and with small clumps of ostrich feathers placed delicately on the outer rim of the skirt, has a bodice of skin-coloured fabric on which is stitched a heart-shaped front of lace and beads. While it was initially made as a kind of pièce d'occasion, it was worn in a performance of the Black Swan pas de deux from Swan Lake by dancers of English National Ballet. It is a beautifully elegant version of the traditional tutu and its style stands in contrast to the modern variation on the tutu made by Toni Maticevski for Aviary. The Maticevski garment is less traditional in shape, rather more cabaret-esque with its pannier-like sides of strikingly large ostrich feathers, and with tulle and silk georgette fabric draped at front and back. Its accompanying millinery by Richard Nylon is eye-catching to say the least.
Remarkable to look at are three costumes by Viktor & Rolf for a Netherlands Dance Theatre production, 2 Lips and Dancers in Space, directed by Robert Wilson for the NDT III arm of the company. I especially enjoyed a black and gold costume that consisted of various extravagant additions to a basic, long-sleeved, black unitard-style garment. Gold metal crowns projected from the thigh and hip sections of the unitard, and gold cones (dunce caps?) with gold fabric falling from the peak of the cone sat on the shoulders and projected from the genital region. Gold fabric of various kinds—lamé, silk, satin—were wrapped and draped on various parts of the costume. The theatricality of the whole had the look of the Baroque era or perhaps Carnivale in Venice. Or perhaps Dada-esqe is a better word to describe the items, especially when one watches an extract from the work in the compilation of footage.
While I have singled out just a few of the costumes on display, every one of them has something of interest, either intrinsically, comparatively or in relation to the footage. Some are well-known to dance-goers in Australia: Vanessa Leyonhjelm's 'industrial' tutu for Stanton Welch's Divergence, Collette Dinnigan's finely designed tutu with black lace and beading over a peach-coloured silk skirt and Easton Pearson's African-inspired tutu, the latter two having been seen in the earlier tutu exhibition. Others are not so well-known: Rei Kawakubo's astonishing costumes with their large protuberances for Merce Cunningham's Scenario, Christian Lacroix's colourful, multi-patterned, mixed fabric costumes for a 1980s revival of Gaîté parisienne by American Ballet Theatre, and others by Ralph Rucci and Valentino. And then of course there are the astonishing hooped burqas with flashing blue lights that are part of 2 Lips and Dancers in Space.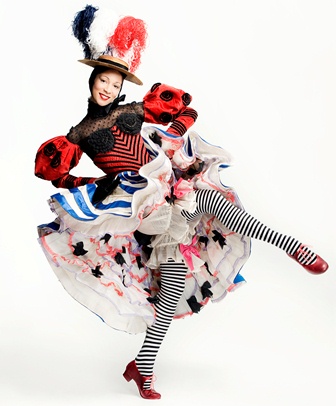 The exhibition is a very nicely curated show and well worth seeing. It is accompanied by a useful booklet, Ballet and fashion, by Roger Leong, which contains the information on the wall captions and extra information, especially about the designers. Some seating in the gallery displaying the footage would be a bonus.
Ballet and fashion: National Gallery of Victoria, Melbourne. 3 November 2012–19 May 2013
Michelle Potter, 17 January 2013