David Vaughan's Merce Cunningham. Fifty Years was published in New York by Aperture in 1997. It was described on the title page as a 'chronicle and commentary', which it is, containing as it does a chronological account of Cunningham's career from its beginnings until 1994. In 2012, Aperture and the Cunningham Dance Foundation released an updated version of the book for iPad. The app contains the material in the original book and continues Vaughan's chronicle and commentary in the same kind of format. It takes the reader from 1994 until Cunningham's death in 2009 and on a little further until the end of the Legacy Tour in 2011.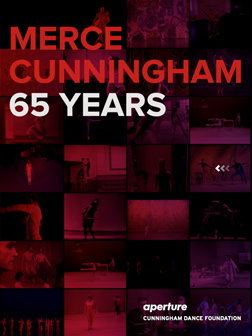 But of course as an app Merce Cunningham: 65 years is able to offer a range of enticing audio-visual items. They include extracts from a number of Cunningham dances, including some black and white archival material and some extracts from documentaries; excerpts from a series of filmed interviews with Cunningham conducted by David Vaughan; excerpts from a filmed series called Mondays with Merce, in which Cunningham recalls anecdotes and events from the past; and something I really enjoyed, Cunningham reading his seminal essay of 1952, Space, time and dance.
Sadly, but for good reasons no doubt, the moving image excerpts are all too brief. One of the most interesting items, however, is an excerpt, only recently discovered, from Martha Graham's 1940 work Every soul is a circus featuring Cunningham, Graham and Eric Hawkins. Cunningham, then not much more than twenty, enters and dances a short solo. He jumps and prances, changes direction suddenly, sinks to the floor. He is as light as a feather and moves like quicksilver. It's a remarkable view of Cunningham the young dancer.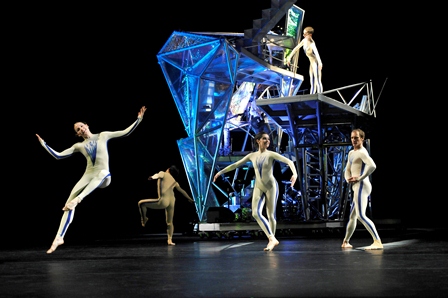 The photographs in this app are breathtaking. I was especially moved by some of the more recent ones, with which I am not so familiar. What they dois show fabulously trained, articulate bodies. Reading Cunningham's essays reproduced in this app, listening to him in interviews and reading his thoughts throughout, all his beliefs about dancing are there to see on the bodies of his dancers. Similarly, looking at the short extracts of film footage, the same understanding of how the body positions itself and moves in time and space is absolutely apparent. Look, for example, at Cédric Andrieux in an extract from Suite for five or Holley Farmer in Loose time.
There are also some fabulous photographs from the Beacon Events series, taken during residencies at Dia: Beacon, a gallery space in Beacon a small city not far from Manhattan where Cunningham choreographed a series of site-specific events responding to the art on display.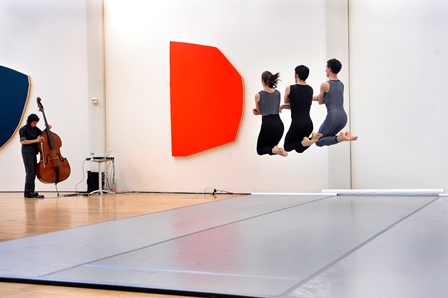 In addition, this app has a wonderful bibliography (expanded from the original book); a list of works; an extensive gallery of images; a small gallery of Cunningham's drawings; another small gallery of pages from his journals; and several of Cunningham's essays of which the 1994 How to cook a macrobiotic meal in a hotel room is an absolute delight. The app is also a remarkable record of how Cunningham never stopped investigating the new, and never stopped collaborating with others who also worked to discover new ways of making art, right up until the end.
I had some minor issues when I first starting using this app with navigation, which sometimes is a right to left swipe and sometimes an upwards movement. But that was soon over and the navigation is quite logical given that the app is quite large. The audio-visual material is embedded in the app so once downloaded no active internet connection is required. Merce Cunningham: 65 years is a remarkable initiative. It is available through the iTunes store, is available for iPad only and is worth every cent of the $15 or so that it costs.
All images reproduced with permission and courtesy of Aperture.
Michelle Potter, 13 January 2013
UPDATE AUGUST 2020: Unfortunately the app has not been updated so that it can be used with today's technology. This is a shame because the audio visual content was just wonderful,