The buzz around Canberra is that Monument, Garry Stewart's new work for the Australian Ballet and the Centenary of Canberra, may well be that elusive item, 'a great work'. Monument elicits shouts, screams and whistles as the curtain falls. Audiences exit the auditorium agog and, returning for a second viewing, I was filled with anticipation and excitement. Its appeal seems to be universal—young, old, dance fans, those who don't often go to a dance performance—so many are talking about it.
It also sent me back to Parliament House to take a look at Romaldo Giurgola's imposing Marble Foyer, which was the inspiration for much of the visual design for Monument. It is indeed an imposing, high-ceilinged space filled with marble columns. But Giurgola has frequently expressed his pleasure that few people look for the lifts to get to the next floor. They climb the marble staircase instead. Despite its imposing qualities it exists on a human scale as well. So too Monument. The formal qualities that define it, its reference to the architectural process, do not alienate. They touch a human nerve.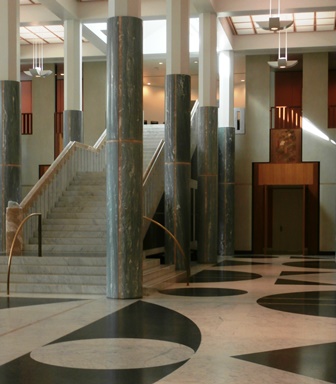 I was also able to take a close look at Mary Moore's body-hugging costumes made from white lycra with a fine black lycra trim. Three costumes, some designs on paper and a selection of rehearsal photographs are on display in a corridor just off the foyer's central space.
Here is a link to a PDF of my Canberra Times review of the Australian Ballet's Canberra program, Symmetries, of which Monument is part. I will be writing more about Symmetries, including Monument, for Dance Australia Reviews, coming soon. There is much more to say, especially about how Stewart has constructed and choreographed the work.
The Canberra Times review is also available online with a gallery of images [sadly no longer available—MP 26/06/2016]. The gallery is worth exploring. It gives [gave] some great views of Mary Moore's costumes and Paul Lawrence-Jennings' graphics. Although there is no footage, the image gallery also indicates [indicated] the nature of Stewart's choreographic approach. The images by Karleen Minney were taken at a media call and so are unposed.
Michelle Potter, 25 May 2013
Featured image: Scene from Monument, Canberra 2013. Photo: © Branco Gaica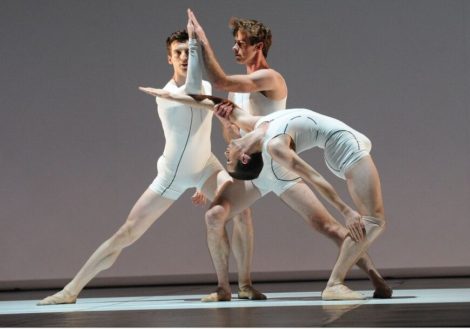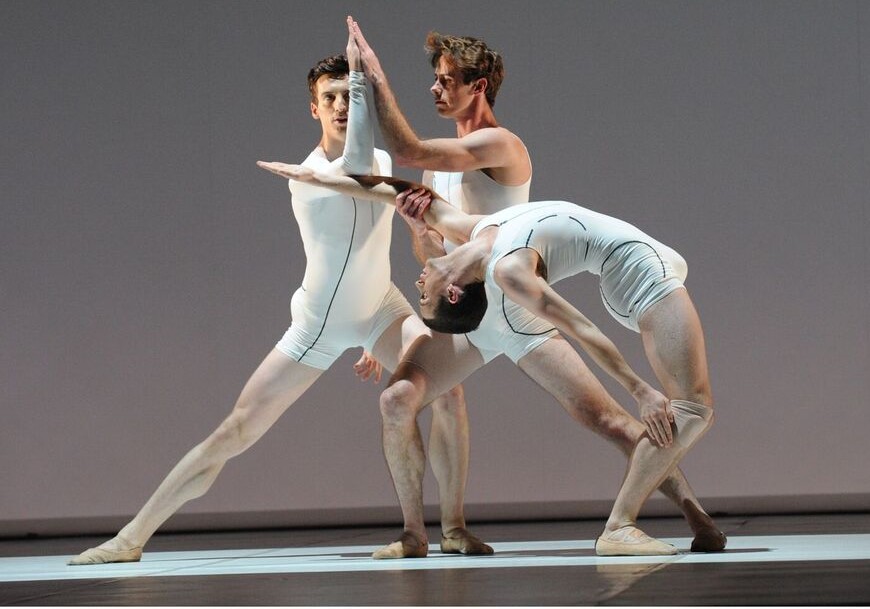 UPDATE, 28 May: My Dance Australia review is available at this link.