14 April 2012 (matinee), Opera Theatre, Sydney Opera House
A second look at the Australian Ballet's triple bill program, Infinity, at a recent Saturday matinee in Sydney produced some new highlights, but largely reinforced my thoughts following my first viewing on opening night in Melbourne.
As a new highlight, it was especially pleasurable to see that the shocking conflict between orchestra and the spoken narrative in There's definitely a prince involved had been solved. It made a huge difference to one's understanding of choreographer Gideon Obarzanek's approach to the piece when one could actually hear what the performers were saying. The narrative is much wittier than was apparent on opening night when clarity and audibility were pretty much non-existent and when it seemed more like a fight between the orchestra and the spoken word than anything else.
In addition, the printed handout now included a credit to Tom Lingwood, whose name was missing from the handout on opening night but whose costumes from Swan Lake and Night Shadow were used for Prince (with extra costumes by Alexi Freeman). I suspect there needs to be someone doing a better job at proof reading of Australian Ballet publications, from major books down to nightly cast sheets.
Kristina Chan and Sara Black gave strong performances in Prince. Chan is a powerful dancer and her contemporary skills were especially evident in the 'Drone 2' section of Prince (although I'm not sure what the 'Drone' sections were meant to achieve). Black stood out on this occasion mostly for her confident delivery of the spoken text. And as before I admired Madeleine Eastoe and continue to yearn to see her in a Swan Lake that will give full expression to her glorious classical technique.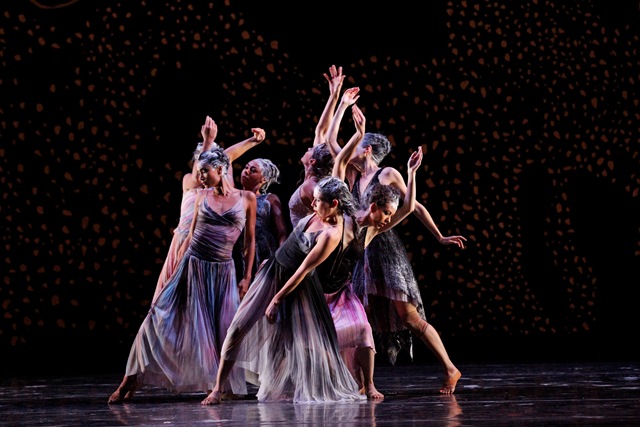 In Stephen Page's Warumuk—in the dark night, Jennifer Irwin's costumes remain a highlight as does Vivienne Wong's performance as the Evening Star. But it remains just a pretty work, evocative and atmospheric.
There is no doubt in my mind that the major piece on the Infinity program is Graeme Murphy's The narrative of nothing. Halaina Hills and Amy Harris danced the female leads on this occasion but I was especially impressed by Benedicte Bemet, in her first year with the company, who danced securely and serenely in a duet with Jarryd Madden. An injured Andrew Killian was replaced by Andrew Wright but it was Adam Bull again who stole the show amongst the male performers. I admired the intensity with which he approached Murphy's choreography with its quirky and demanding partnering and its detailed and often unexpected movements. And looking back to my original post and its comments, I don't think I interpreted the work differently despite now knowing that the score by Brett Dean referred to the Black Saturday bushfires of 2009. I continue to think that the work stands alone as an abstract piece and needs no context of bushfires or anything else of a specific narrative/contextual nature.
In fact, what I found most striking on this second viewing of Infinity was the choreographic power of The narrative of nothing. While we can look at this work as 'vintage Murphy' in so many ways, when seen alongside the other works that comprise Infinity the depth of Murphy's choreographic invention, his devotion to making dance that speaks to the audience about the nature of dance, his ongoing explorations into the art of collaboration with the performers he chooses and with his creative team, is astonishing. While I love Infinity as a whole, especially for its admirable pushing of the boundaries of what the Australian Ballet stands for, Murphy stands out as the choreographer with the most to offer. He gave the dancers something to dance, something with guts, and he gave the audience something abstract, something in which they could immerse themselves in a way that only dance can offer.
Michelle Potter, 15 April 2012.