Choreography Lin Hwai-min to Bach solo cello suites, cellist Mischa Maisky. Video screening by Sadler's Wells, via YouTube until 22 May 2020
Reviewed by Jennifer Shennan
Moon Water, choreographed by Lin Hwai-min, to Bach's six solo cello suites, is performed by Cloud Gate Dance Theatre, one of the world's most accomplished and respected dance ensembles. In lieu of Cloud Gate's planned season at Sadler's Well's, this free screening is being made available on YouTube throughout the week, until Friday 22 May. Lin speaks in the introduction: 'In these times of uncertainty, I hope this lyrical dance will bring you joy and peace.' He's right about 'the times' and his hope is realised in a sublime work of light shining out of shadow, and of the dancers' calm and supple strength that accepts and yet conquers the force of gravity. As inspiration for the making of Moon Water, Lin quotes the mantra for Tai Chi practitioners: 'Energy flows as water, water's spirit shines as the moon', as well as the associated Chinese proverb: 'Flowers in the mirror and moon on the water are both illusions.' These are all the program notes we need.
I first saw Moon Water performed at the cultural festival which acted as prelude to the Sydney Olympics in 2000.
[The hugely impressive dance program within that festival also included Masurco Fogo, Pina Bausch's choreography by Wuppertal Dance Theatre, The Cost of Living, Lloyd Newson's choreography by DV8, as well as seasons by Sydney Dance Company in Graeme Murphy's work on the Olympics in Ancient Greece, Bill T. Jones/Arnie Zane Dance Company, and The Australian Ballet].
As the world's media turns to the Olympic Games every four years, with typically spectacular Opening and Closing Ceremonies framing the sports contests, it has always seemed a pity that the associated arts festivals that act as precursor to the Games receive next-to-no international media promotion or coverage. Lucky I was to get to Sydney for so many memorable performances in 2000. I've been in love with Cloud Gate ever since.
The company was formed in 1973 by Lin Hwai-min and has remained under his consistent and visionary leadership for decades. Performing exclusively his choreography, the company's extensive international touring has made it one of the world's leading and most respected dance enterprises. The extensive repertoire grows from Lin's deep searches into the philosophy, lifeways and art forms of Chinese history and traditions. Each work is a model of meditative calm and clarity as a single concept is explored—yet there's an undertow of complexity and passion there for those who would see it. If you want novelty, fashion, sensation and display of virtuosity for its own sake, yawn yawn, you should probably look elsewhere.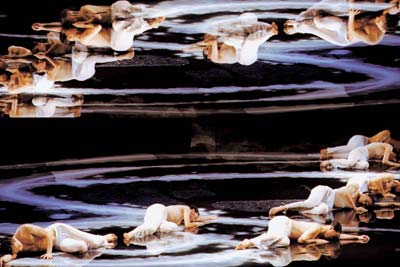 Cloud Gate's movement vocabulary and aesthetic grows from the suppleness, strength and flow of Tai Chi meditative and martial art, intertwined with contemporary dance, somewhat after Martha Graham technique. The play of vertical and horizontal is not in contrast but in segue, and there is astonishing control as a dancer moves from standing then into a deep plié, then onto the floor, then back to standing as though this is just one sequence of movement, and it fair slows your breathing. A line becomes a curve becomes a circle becomes a wheel becomes a windmill. A standing figure of eight has become a reclining infinity sign. In Moon Water there are solos, duos and a chorus grouping that take us through a night where the moves of dancers clad in white silk clad are bathed in light that reflects on backdrop, overhead, and finally beneath them, in the water which slowly washes across the stage. Mostly adagio, with the occasional subito, there are images that evoke a large bird standing (crane or heron, kotuku) or flying (gannet, albatross, toroa). The presence and power in their contained energy somehow also includes the qualities of tenderness towards a newborn, a trusting child, a calm adult, a weak but hopeful elder, all slowly moving towards a life-affirming first white light before dawn.
I visited Taiwan in 2017 and had the loveliest of times with Cloud Gate. I could write about them forever but reading that would be a waste of your time when you could be watching Moon Water.
And a tribute to all that a second company, Cloud Gate 2, was formed to create opportunities for dancers to choreograph new repertoire.Upon Lin Hwai-min's retirement last year, the leader of that ensemble, Cheng Tsung-lung, was appointed as the new artistic director of the main company. How affirming to see the wisdom and generosity of spirit involved in managing this company's heritage—a rare achievement among the competitive politics of many a professional dance company you and I could think of.
Jennifer Shennan, 17 May 2020
Featured image: Moon Water performed by Cloud Gate Dance Theatre of Taiwan. Photo: © Liu Chen-Hsiang