7 September 2016, State Theatre, Victorian Arts Centre, Melbourne
Alexandre Riabko, guesting with the Australian Ballet in the lead role on the opening night performance of John Neumeier's Nijinsky, has been dancing that role since at least 2003 when Hamburg Ballet guested in Paris. He may well have danced it even earlier. At the work's world premiere in Hamburg in 2000 he took the role of the dancer Nijinsky as Harlequin in Le Carnaval and the Spirit of the Rose in Le Spectre de la rose. Thus the ballet Nijinsky, and the role of Vaslav Nijinsky, have been part of his dancing life for more than fifteen years. And so it was not surprising, but nevertheless thrilling, that his performance throughout the ballet was exceptional. It was exceptional from his first commanding entrance and walk down the steps leading to the space where he was to dance, through to his dramatic finale, performed in the same space, albeit now an arena that contained signs of destruction, as indeed did Nijinsky's state of mind. Riabko held the work together. It was a tour de force by a dancer who communicated with every inch of his body.
Those with whom Riabko shared the stage—characters representing Nijinsky's family, especially his wife Romola; characters that Nijinsky danced during his career; dancers from Diaghilev's Ballet Russe, including Tamara Karsavina and Leonide Massine; Diaghilev himself; soldiers and others representing war, against which Nijinsky was so opposed—had mixed success.
Leanne Stojmenov was a standout as Nijinsky's sister, Bronislava Nijinska, especially in the Rite of Spring scene (of which sadly there seem to be no media images available, but see below for Stojmenov as the Young Woman in Jeux).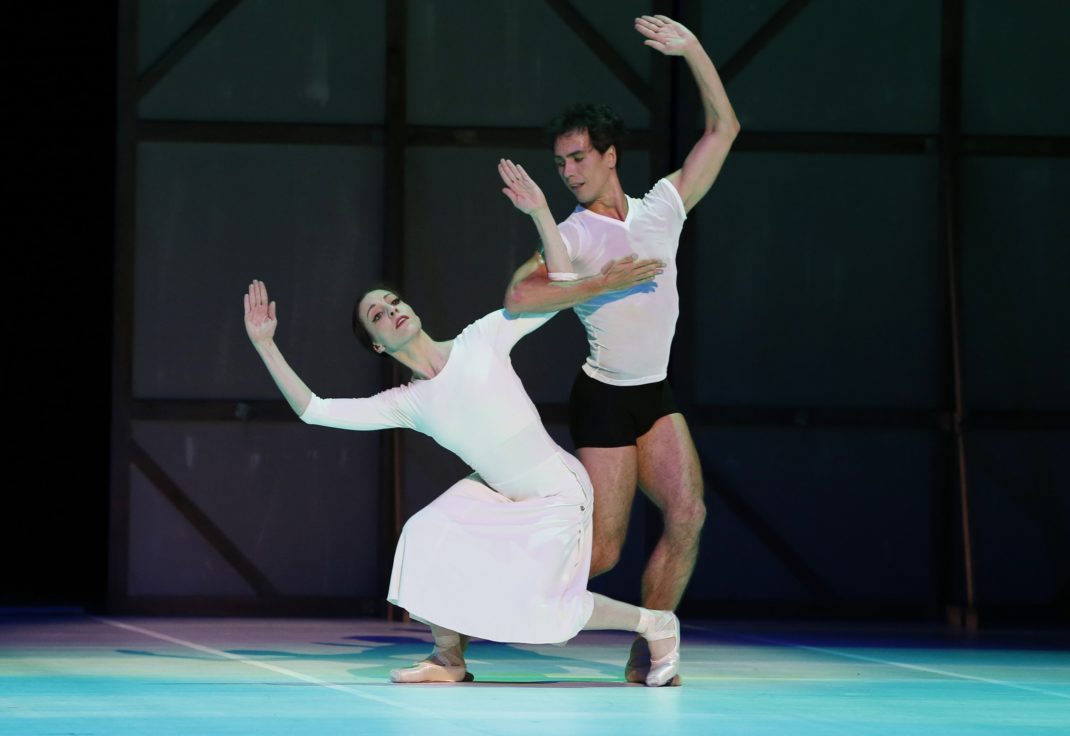 In the Rite of Spring scene, where Stojmenov played the Chosen Virgin, she danced as if there was no tomorrow, tossing her body into Neumeier's demanding positions, flinging herself from side to side, hair in disarray. In fact this scene, with Riabko/Nijinsky standing on a chair shouting out instructions to the performers, is one of the most exciting of the evening. (To the Australian Ballet: oh please get access to the Pina Bausch Rite of Spring and put Stojmenov in the lead. She would be stunning).
I also thought that François-Eloi Lavignac was outstanding as Stanislav, Nijinsky's brother. His small, compact but very flexible body perfectly suited Neumeier's writhing movements. Stanislav's death was a compelling scene.
Along with Lavignac and Stojmenov, I was also impressed by Cristano Martino as the dancer Nijinsky as the Faun in L'après-midi d'un faune, and the Golden Slave in Schéhérazade. His Golden Slave was slinky and strongly sexual. His Faun was beautifully controlled and conveyed an innate power.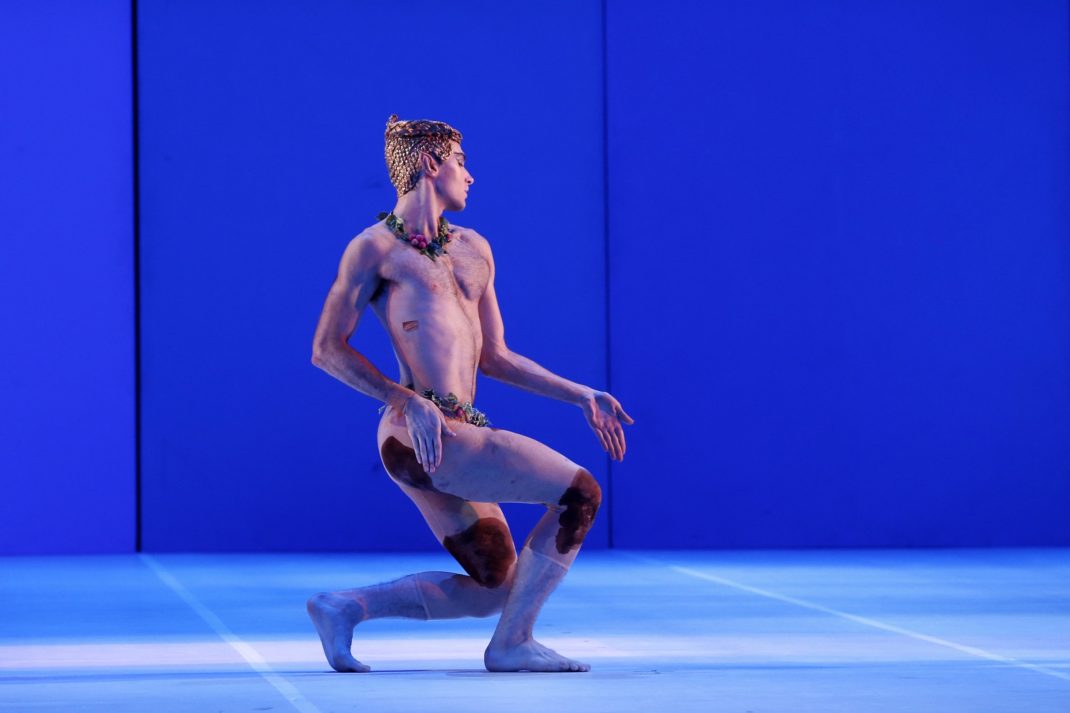 As ever, however, I longed for so many of the others in the cast to have more artistry in their performance and, for the first time in my various encounters with this ballet, I felt as though Neumeier's Nijinsky was too long and too slow in parts. I still get the feeling that the dancers of the Australian Ballet focus on steps, and Neumeier's Nijinsky is not about steps. I was disappointed, for example, with Adam Bull's portrayal of Diaghilev. Bull is an excellent dancer but I think of Diaghilev as an eccentric character and there was nothing eccentric about Bull's interpretation. For me he was a ballet dancer pretending to be Diaghilev. Similarly with Amy Harris as Romola. I got no feeling for what kind of person she might have been.
I did enjoy the sets and costumes (concept by Neumeier) more in this viewing than previously, when I guess I was more focused on what was happening and who was who. Neumeier's use of 'attributes' rather than detailed costuming to distinguish characters was aesthetically pleasing and the circles of light that occasionally appeared as part of a particular setting recalled Nijinsky's fascinating circular drawings, some of which are part of Neumeier's personal collection of Nijinsky memorabilia.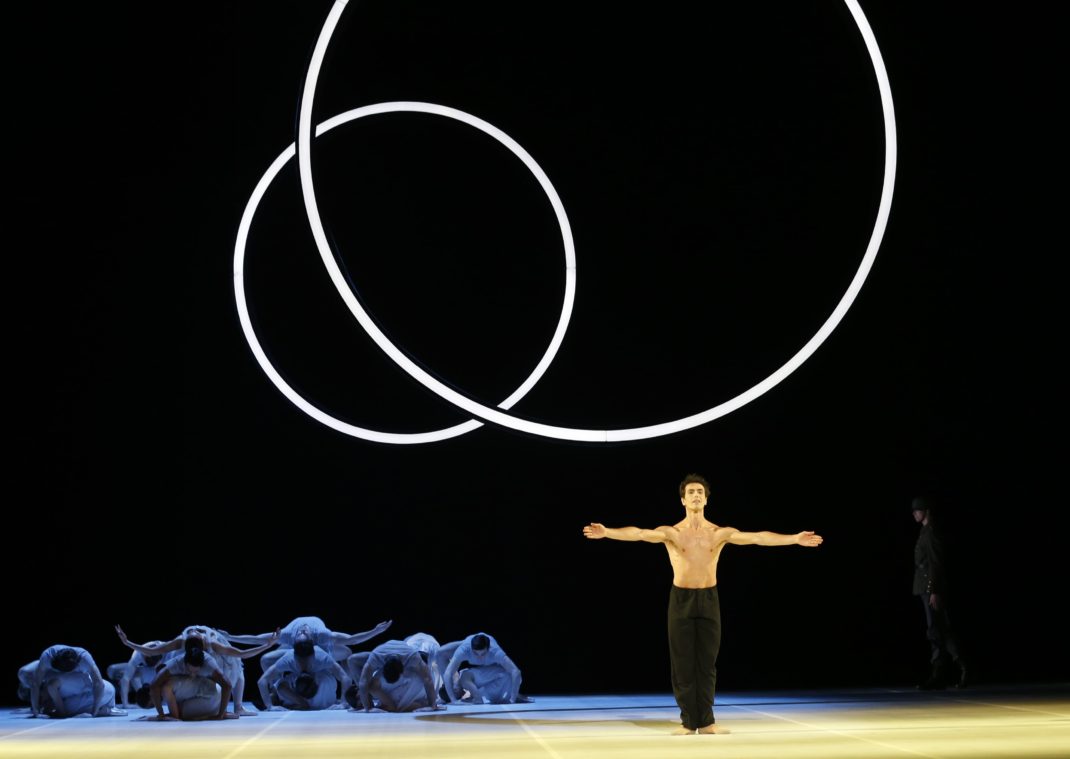 Nijinsky is a thrilling work and I bow to Neumeier's concept. But I hope that throughout the Australian Ballet season, as it continues in Melbourne, and then goes to Adelaide and Sydney, that stronger characterisations might emerge from more of the dancers.
Michelle Potter, 9 September 2016
Featured image: Alexandre Riabko in Nijinsky. The Australian Ballet 2016. Photo: © Jeff Busby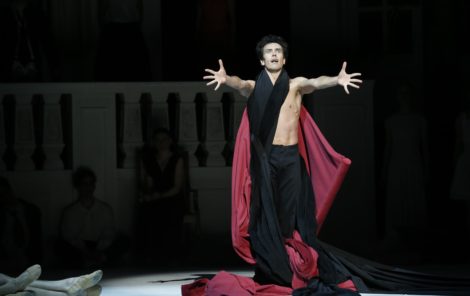 My review of Nijinsky with Hamburg Ballet in Brisbane in 2012 is at this link.