15 December 2019. QL2 Theatre, Canberra
On course, a program providing opportunities for emerging choreographers currently studying at tertiary institutions, is now in its thirteenth year. The 2019 program consisted of eight live choreographic productions and two short films. Most of the creators and performers had previously danced with QL2 Dance, Canberra's youth dance organisation, and on this occasion creators came from the Victorian College of the Arts (VCA), Western Australian Academy for the Performing Arts (WAAPA) and the New Zealand School of Dance (NZSD).
The absolute stand out work to my mind was Free as a bird, choreographed and danced as a solo by Marcel Cole, former student of Kim Harvey in Canberra and now a contemporary major at NZSD. Cole walked into the performing space and announced 'This is not a comment on ballet.' He then proceeded to dance an excerpt from Solor's variation in La Bayadère. While somewhat constricted by the small space of the QL2 blackbox theatre, and perhaps by a little lack of attention to some details, we could not help but be swept away by his elevation, those fabulous cabrioles, and a manège of jetés.
But what made Free as a bird an exceptional piece was what came after. Cole is looking towards contemporary dance these days and, after the Bayadère solo, he began to question the direction of his life. He went to an imaginary barre, did a couple of pliés, left the barre, then came back, and left again before suggesting that while studying ballet he had been walking in a straight line—with clear direction—but that now he was moving along a different path. I could have done without the verbal explanation at the end because it was perfectly obvious from the movement, and from Cole's strong presence, what was happening. The work finished with Cole turning in a small circle with his arms tracing a meandering pattern in the air. The concept behind the work quite clear. No words were necessary.
This brings me to another point. Almost without exception the choreographers chose to use the spoken word in their creations. I'm not sure why this was thought to be necessary. In my experience the most powerful choreography expresses the creator's ideas through movement, without a verbal explanation. There are some things that dance can't say well of course, but let's not dance what we have to say. It was interesting too that the one creator who used quite minimal verbal intervention was Mia Tuco who is currently enrolled at the VCA in a Bachelor of Fine Arts in Acting! Her work, I was the angel in the poem you wrote, was clearly and strongly constructed and again needed no words.
Another strong work on the program was Caspar Ilshner's Eye to Eye. Its strength lay in the work's coherence in which the music (composed by Ilshner himself, another NZSD student); the choreographic structure; and the costumes had all been thought through clearly and all contributed well to the whole. I especially admired the way in which Ilshner manipulated groups of dancers to show us various aspects of human interaction.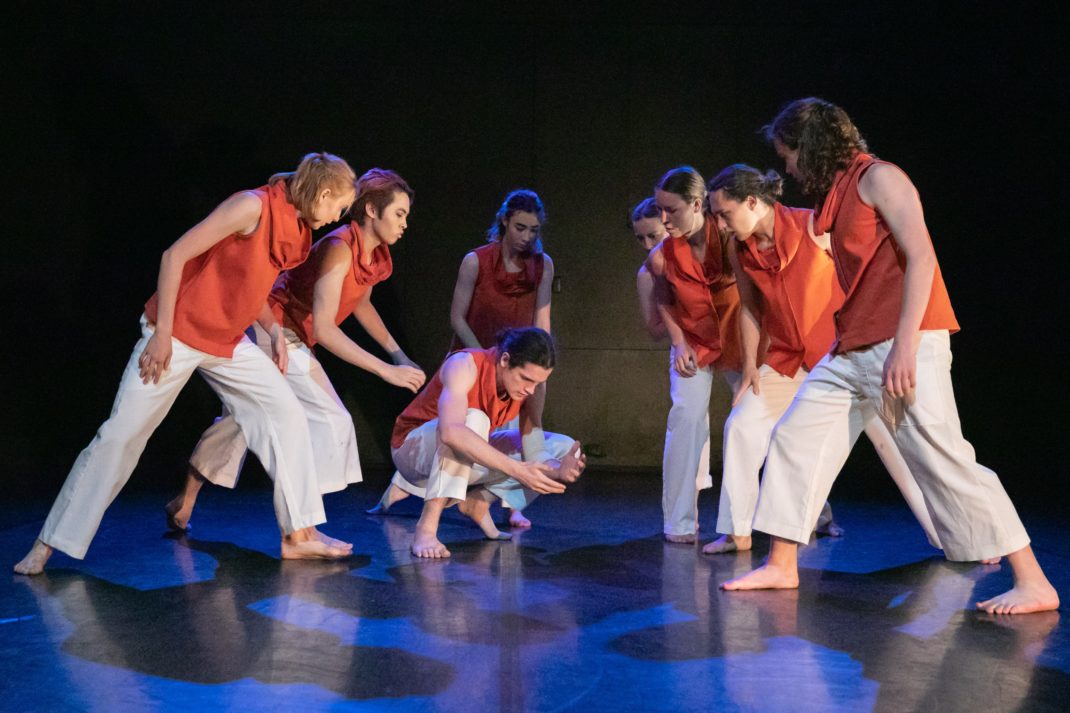 Having taken my stand re words and dance, I have to say I enjoyed Ruby Ballantyne's My roommate is a very heavy sleeper. The often amusing story was narrated as a voice-over, and the choreography really only played a secondary role as far as I am concerned. But then that's something different from choreography that has to explain itself in words. Ballantyne is studying at WAAPA.
I also especially enjoyed Jason Pearce's Kafka, which was the first of the two short films presented at the beginning of the evening. Pearce has just recently graduated from the VCA and his film focused largely on a close up of a particular part of the body in movement. We mostly saw the back of the torso and it was mesmerising for the glimpse it gave us of spinal movement.
On Course is a wonderful initiative. I had particular favourites but I was pleased to see such a range of ways in which choreography can be approached and in which ideas can be presented.
Michelle Potter, 17 December 2019
Featured image: Marcel Cole in Free as a Bird from On Course, 2019. Photo: © Andrew Sikorski/Art Atelier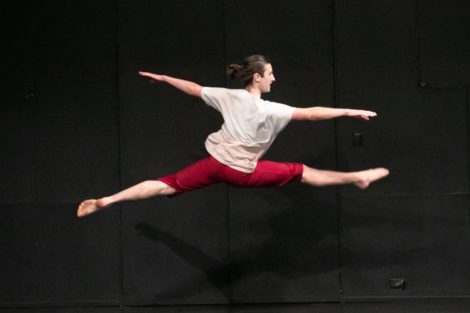 Please consider supporting my Australian Cultural Fund project to help Melbourne Books publish Kristian Fredrikson. Designer in a high quality format. Donations are tax deductible. See this link to the project, which closes on 31 December 2019.