05 October 2012, Theatre Royal, Glasgow
Scottish Ballet's triple bill of works by Martin Lawrance, William Forsythe and Hans van Manen was designed, according to artistic director Christopher Hampson, to show choreography across three generations. To my mind, however, the evening showed more that choreography sometimes looks dated and that for it to have a powerful effect it needs something more than extreme physicality.
The evening opened with Lawrance's Run for it, performed to John Adams' Son of Chamber Symphony. It was made originally for Dance GB, a program associated with the London Olympics, although I'm not sure whether Olympic references in Run for it were specific or merely general (as a result of the athletic performances by the dancers). This was my first encounter with the choreography of Lawrance and, while his ability to create energetic, highly physical movement was absolutely evident, I'm not sure he has yet established an individual choreographic voice that makes his brand of movement vocabulary distinctive. To me it seemed like a series of random movements lacking focus.
In many respects the Olympic references came through more clearly in the design. The set by recent Turner Prize winner Martin Boyce recalled ancient Greece, home of the Olympics. A Grecian-style, fluted column set slightly off centre-stage was topped by a conglomeration of geometric shapes spreading across the upper space a little like a cloud. Yumiko Takeshima's close fitting costumes, looking like an outfit one might wear to the gym, emphasised the sleek and athletic bodies of the dancers.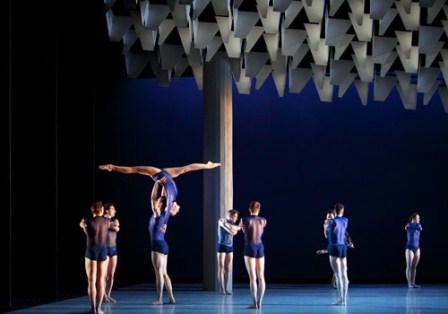 Closing the program was Hans van Manen's 1970s piece 5 tangos to music by Astor Piazzolla. This mixture of ballet and tango moves was well performed by the dancers of Scottish Ballet, who wore their red and black costumes with panache. The men in particular moved as an ensemble with admirable ease. Sadly, I don't think the choreography gave the dancers the opportunity to move with the passion I associate with the tango, although they made the best of what they were given to dance. For me the piece showed how choreography has changed over the past 30 or so years. The carefully arranged moves and patterns of 5 tangos seemed overly structured and, with an emphasis on canon forms, repeats and so forth, the whole seemed too obvious and almost predictable.
The pièce de résistance was the middle work on the program, William Forsythe's Workwithinwork set to Luciano Berio's Duetti per due violini. While the off-kilter moves, extended limbs thrashing through the air, and the highly physical partnering we associate with Forsythe were all there, this work began with the dancers looking as though they were in comic mode. Repeatedly they looked almost as if they were poking fun at classical poses and in general fooling around. But by the close of the work, largely a series of duets and trios, all seemed to come together in a cohesive whole and, as the curtain came down, we were left with wisps of movement being traced in the air by the dancers to remind us of what had gone before. It was a mesmerising work with many levels of meaning. One viewing simply made me long to see it again.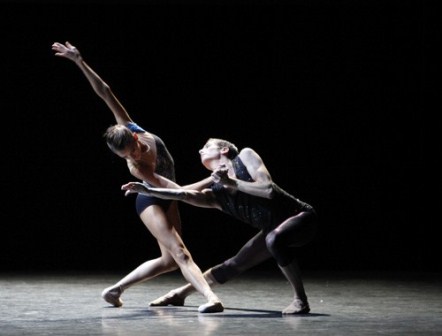 This program was my first encounter with the work of Glasgow-based Scottish Ballet. Not knowing any of the dancers, I am sorry not to be able to comment on individual performances. Christopher Hampson has been artistic director of Scottish Ballet for a very short time, since August 2012. His personable nature was evident in his onstage introduction to this program, which must have been that of previous director, Ashley Page.  It will be interesting to see how Scottish Ballet develops under Hampson's leadership. He has some excellent dancers to work with.
Michelle Potter, 9 October 2012