Fridays through June, 2021. Toi Poneke Arts Centre Gallery, Wellington
…from Jennifer Shennan
At Toi Poneke Gallery last Friday evening, we watched Te Mauri o Pōhutu (The Life-Force of Pōhutu) , a lyrical duo performed by Bianca Hyslop and Paige Shand, with vocals by Tūī Matira Ranapiri Ransfield, with Rowan Pierce as sound and spatial designer. The event, with an extended karanga of welcome and challenge, opened the month-long Kia Mau Festival in Wellington.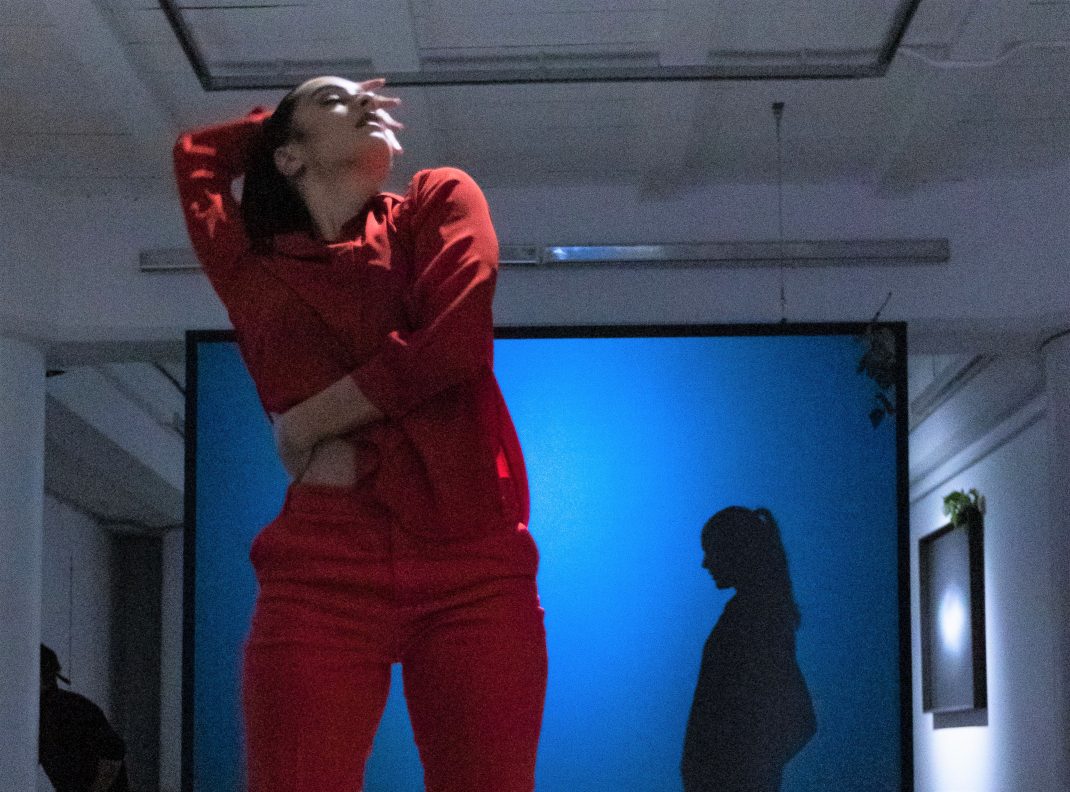 This is a dance of flow and surge and curve and turn and return, of arc and arch and sweep and pull and tilt—not a straight limb nor an angled joint in sight, no pointed hook for a dancer's foot, no self-conscious strut or mannered striving of torso and limbs, just two beautifully-tuned bodies, dressed in the sacred red of blood and of mana, moving with grace and nature, dancing a twenty-minute lullaby and homage to an old woman's life, to family, to village, to history and to the present, to gravity, to the air around and above, with their bare feet on the same ground we all stand on. The dance is an embrace, a mapping, a marking. Bianca has said elsewhere … 'I'm not interested in making works of protest, rather to create living works of beauty that serve as reminders…' and in her program note here …'Te Mauri o Pōhutu is a sensual offering that addresses the fragility of memory, connection to whenua and reclamation of culture from within foreign frameworks.' Amen and Kia Mau to that.
After a koru of curving swirling hands, growing into arms then swelling into torso spirals, we are reminded of the kowhaiwhai shapes of painted ceiling panels in nga whare whakairo, meetings houses, and of the tossing flights of poi in Maori dance. An intriguing section follows with the two dancers picking up marker pens to draw the outline of a village on an adjacent board—first the landline, then the road, the houses, a church, a bridge, a river – a story without words.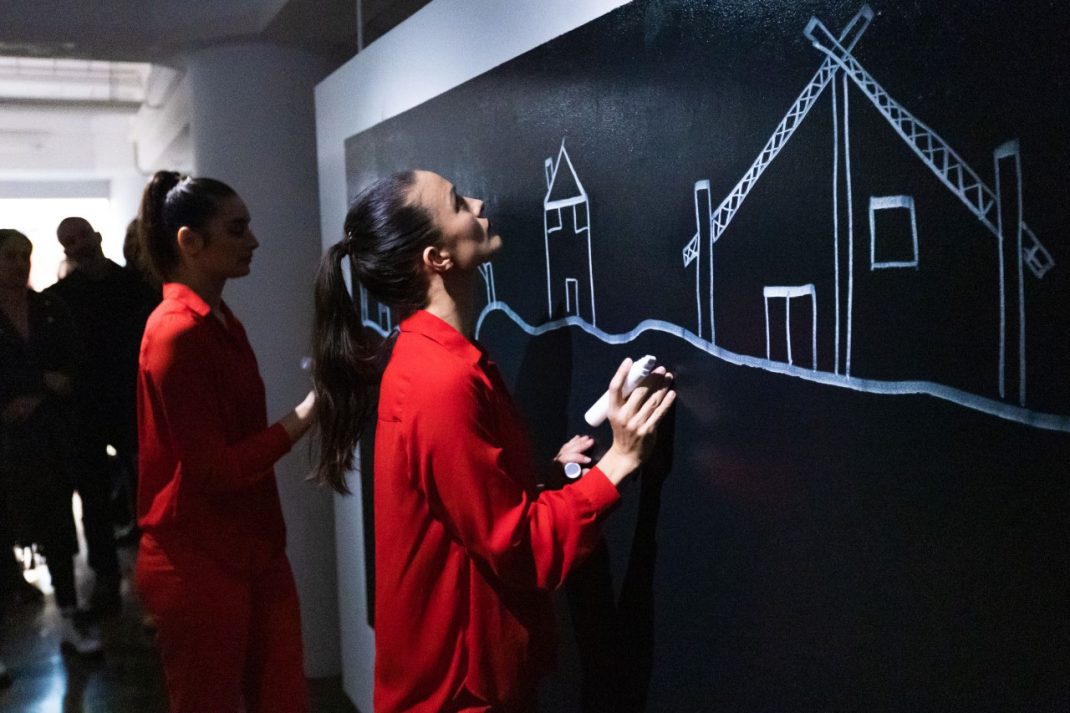 Movement in the following section suggests stronger claim to emotions of closeness, strife, then a mood of acceptance as the two dancers move behind a screen to make shadows of their thoughts. It's a poignant image of mind and body taking their leave of each other…followed by video of Te Pōhutu in close-up. The potency of the geyser's force is clear, but the dance has found a space to co-exist in its shadow. We all know how unpredictable geysers and volcanoes can be, witness the horrors of the Whakaari Island recent eruption, with devastating injuries and loss of life. At the entrance to the gallery, we have passed a plinth on which sits a tiny 'sculpture', a cone of sand, a miniature mountain. A reminder.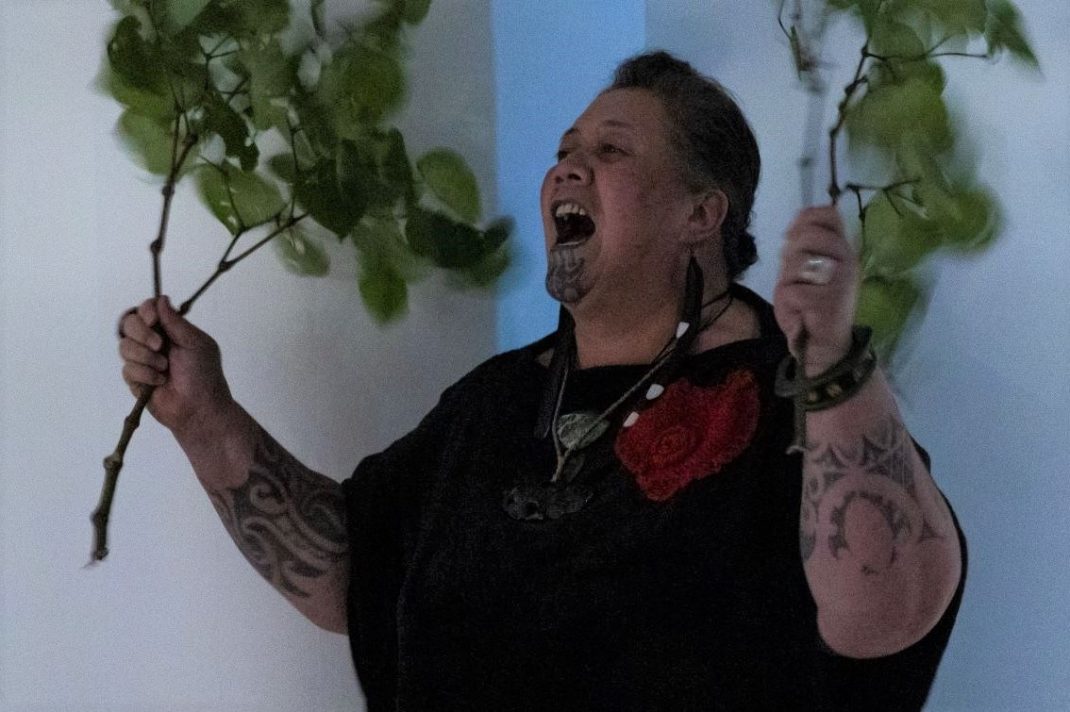 Toi Pōneke, Rotorua's famous cone geyser, Pōhutu, has been mecca for decades of tourists watching and wondering at its power. For centuries before that it has been a central landmark in Ohinemutu village for Te Arawa people, whose home is Rotorua and surrounding areas. We all as children watched Pōhutu, and marvelled at its mighty forces escaping from under the ground, wondering if it would blow all the way up to the sky and take us with it. The geyser blows on average every twenty minutes—the same duration of this dance which has borrowed its name. The geyser will have blown several times as I have been writing this appreciation, and probably at least once while you have been reading it.
All photos: © Roc Torio
Jennifer Shennan, 6 June 2021