It was a pleasure to be able to see Peter Wright's Nutcracker once again, this time on film danced by the Australian Ballet and recorded in Melbourne on 17 September 2014. It was shown on ABC-TV on Christmas Eve and is due to be released on DVD by the ABC in early January.
The absolute star was Benedicte Bemet as Clara and I regret not having had the opportunity to see her on stage. She commanded the role from beginning to end, never losing strength or characterisation. She showed off a wonderfully fluid technique and I especially loved her use of épaulement, her gorgeous carriage of the head, those beautiful arabesques that seemed to soar upwards, and the way she always, but always, stepped forward onto a turned out foot. Those technical matters came as if they were second nature and she looked every inch the dancer from start to finish. And she showed her versatility as a performer in Act II as she joined in all the dances, Arabian, Chinese, Russian and so forth, according to Peter Wright's vision for the role.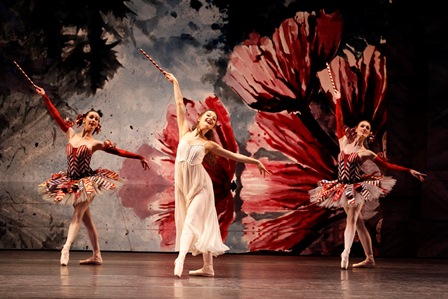 Ingrid Gow was also impressive as Clara's mother where I could not help but notice how expressively she used her arms, especially in her dance with Clara's father (Brett Simon). Andrew Killian made his presence felt as the occasionally frightening Drosselmeyer in Act I, an attitude he tempered beautifully with something more gentle in Act II as he involved Clara in the action.
But looking from a different perspective, one of the most interesting features of this recording was the way the lighting looked so different from what I remember from the Sydney performance I saw. Gone were the garish colours of that Act II set and what appears to have been a more subdued approach to the lighting design in fact made the set look quite beautiful at times. With what were always carefully selected close-up shots, it was possible to see elements of the set highlighted. Not having always to see the entire set gave a quite different impression. The downside, however, was that often the darker scenes, especially in Act I and in the final scene when Clara finds herself again by her family Christmas tree, were often scarcely visible.
The grand pas de deux was danced on this occasion by Madeleine Eastoe and Kevin Jackson and, unlike my previous experience, there was indeed a real connection between this Sugar Plum Fairy and her Prince. Jackson's partnering was impeccable—those shoulder lifts, followed by a full circle swirl before Eastoe was lowered into a fish dive, were just wonderful. Eastoe's command of the choreography was beyond question and her every movement was beautifully and clearly articulated. Together they danced as one.
But I was still a little disappointed. I wanted this pas de deux to look like more than just a lovely dance. It still seemed to lack excitement, daring and the power to thrill. I'm not sure what Peter Wright thinks the pas de deux should look like. I wondered whether in his version he just wanted it to be a lovely part of a lovely story? I wanted it also to be a show piece with the sense of grandeur that goes with the great classical tradition. I wanted it to be more than just a part of the storyline. It was an exquisite pas de deux but it wasn't a 'grand' one for me.
Nevertheless this Nutcracker remains a joy to watch and the DVD will be a worthy addition to any ballet collection.
Michelle Potter, 29 December 2015