In April I conducted two more interviews for the National Film and Sound Archive's Heath Ledger Young Artists Oral History Project. This time, with cameraman John Parker, I recorded interviews with two emerging circus artists currently in their final year of training at the National Institute of Circus Arts (NICA) in Melbourne.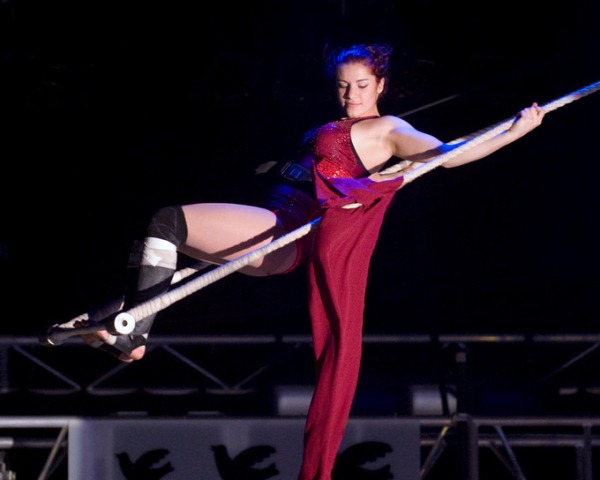 Josie Wardrope is specialising in hand stands and swinging trapeze—she loves the feeling of flying—and in the group activity of risley. The term 'risley' sent me to a dictionary as I was researching for the interview and I discovered it is 'a circus act in which an acrobat lying on his back juggles barrels or fellow acrobats with his feet'. It is named after a 19th century circus performer, Richard Risley Carlisle. Post-interview, watching Josie in a one-on-one trapeze session with her coach, her words about loving the feeling of flying were made visible. Exhilarating!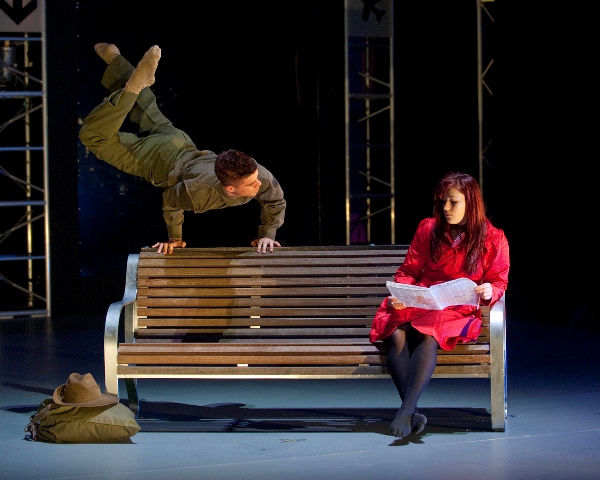 Simon Reynolds gave up his childhood dream of an Olympic gold medal in gymnastics after seeing a performance by Cirque du Soleil. Now he aspires to a contract with this company at the end of his training. At NICA he specialises in contortion hand stands, tumbling tight wire and the group act, teeterboard. I have to say he is somewhat outstanding on trampoline as well. Watching him execute a series of mid-air twists and turns as he moved the length of a very long trampoline in a NICA rehearsal space was breathtaking.
A typical day for these two young people is long and arduous but neither can think of anything they'd rather be doing. Both are full of praise for those who coach them, who bring to NICA the skills that they have honed in circus companies from around the world, including China, Russia and Argentina. Both are utterly determined to make a career in circus. Both are also in rehearsal for their 2012 mid-year show Lucy and the lost boy and agree that it is the performance side of their training that spurs them on to perfect their technical skills.
My reflections on a visit to Jacob's Pillow in 2007 elicited a response from Norton Owen, director of preservation at the Pillow. He mentioned, amongst other things, a DVD called Never stand still. It chronicles life at the Pillow and includes material relating to Gideon Obarzanek. The words of the title, 'Never stand still', are in fact those of Obarzanek, which he used in an interview for the DVD and which were then taken up and used as the title. Below is a promotional clip for the DVD.
In April I had the huge pleasure of recording an interview with Gailene Stock, currently director of the Royal Ballet School, London. I was inspired to suggest that an interview with Stock be made for the National Library of Australia's Oral History and Folklore Collection after visiting her in London last year to talk to her about her recollections of working with designer Kristian Fredrikson. There was such a positive work ethic at the Royal Ballet School that I felt there had to be the hand of a strong and committed person behind it all. And there is—a director who cares deeply about what she is doing. And of course Stock had an impressive career in Australia as a performer, teacher and director before taking up her current position in London. Here is the link to the National Library's catalogue record, although a summary of the interview is not yet available. [Update: The full interview is now available online. Follow this link]
This site now has a search facility located with the tag cloud page.
Michelle Potter, 30 April 2012