My coverage of American Ballet Theatre's first Australian visit as part of Queensland Performing Arts Centre's International Series has just been posted on DanceTabs. Making the most of an expensive trip to Brisbane, I saw two performances on consecutive nights, the last night of Swan Lake and the first night of Three Masterpieces. I would have really liked to have seen Three Masterpieces again, especially Twyla Tharp's Bach Partita, which, given its complexity, was difficult to take in on one viewing.
In addition to what I wrote about Bach Partita in the DanceTabs post, I especially enjoyed a solo by Marcelo Gomes, who is seen below with Gillian Murphy. It is quite clear from this image that Gomes has a powerful presence and his solo was strong and controlled and lost nothing of that presence.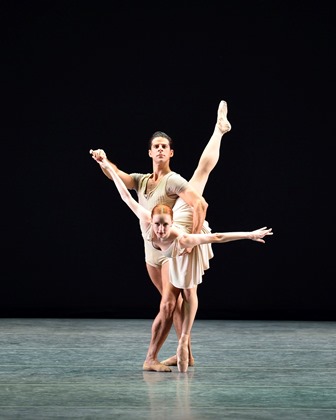 The DanceTabs post is at this link.
Michelle Potter, 7 September 2014
Featured image: Opening scene from Twyla Tharp's Bach Partita, American Ballet Theatre. Photo: © Gene Schiavone