Harry Haythorne (Artistic Director of Royal New Zealand Ballet 1981—1992) was always an enthusiastic admirer of Gray Veredon's choreography. In 1981, the effervescent Ragtime Dance Company, to Scott Joplin, had set the stage sizzling and gave Jon Trimmer one of his favourite roles. In 1988 Harry commissioned Tell Me A Tale, which wove elements of 19th century Pakeha settlers interacting with local Maori community, incorporating haka into the danced narrative. To my memory that was the most assured choreographic staging in and of a bi-cultural New Zealand we have seen.
Veredon's rapport with designer Kristian Fredrikson was evident in the shadowed atmosphere of a powerful set and vintage costumes. Images remain of the performances by Jon Trimmer as the father, Kerry-Anne Gilberd the mother, Kim Broad the son, with Warren Douglas powerfully leading the haka that challenged a love interest across the racial divide. It's always intriguing to think about what keeps some dance memories alive for decades while others fade.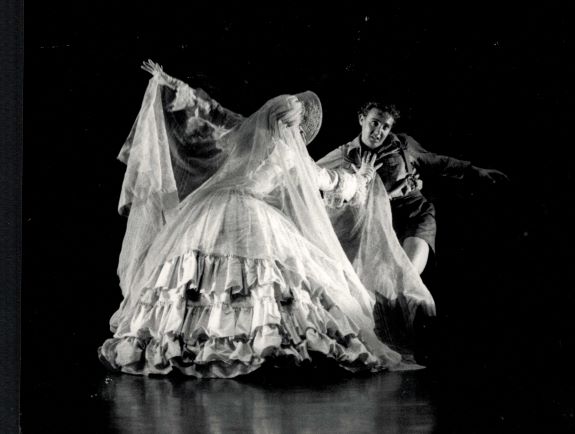 In 1989, Haythorne commissioned A Servant of Two Masters—with Veredon and Fredrikson again working together. The request was for a set that could easily travel abroad since Veredon's contacts with the impresario Manfred Gerber enabled the Company's first tour to Europe. Fredrikson came up trumps with silk banners that filled the stage yet could be folded down into two suitcases. Board a plane with a ballet in your carry-on luggage? Touché.
To vivacious Vivaldi, the full-length work proved a triumph as Veredon, who knew commedia dell'arte well, made stunning character roles for every soloist in the company, each one of whom rose to the challenge—most outstandingly Eric Languet as Truffaldino and Warren Douglas as Brighella. Even the Artistic Director was on stage as Harry leapt at the chance to play Dr. Lombardi, cavorting opposite Jon Trimmer as the wealthy Pantalone. It is true as Michelle Potter points out they did not push their luck by overplaying the farce, but reined in their comic timing which of course controls character the more impressively. Many audience veterans vote Servant as the 'best ever' work from RNZB repertoire. The tour proved hugely memorable for the Company for a completely different reason—they were in Berlin when the Wall came down. Dancer Turid Revfeim's memories and descriptions of the events could and should be the subject of another full-length choreography.
In the book The Royal New Zealand Ballet at 60, Veredon wrote a perceptive article, Developing New Synergies, about his numerous seasons with RNZB. His tribute to Jon Trimmer as leading dancer for decades is for the record. Veredon also shares cogent and relevant ideas for choreographic development within a ballet company, and the responsibility to keep the best of the repertoire extant. Ka hau te rangatahi—the new net goes fishing.
Jennifer Shennan, 4 July 2022
Editor's note: This article began as a comment on the review on this website of the Australian Ballet's production of Harlequinade but deserved to become a short article on new and old repertoire. Gray Verdon's comments on repertoire in The Royal New Zealand Ballet at 60, as mentioned above, are definitely worth reading especially the last paragraph on p. 166. More about A Servant of Two Masters and Tell me a Tale can be found in Kristian Fredrikson. Designer, pp. 147-156.
Featured image: Jon Trimmer as Pantalone with a group of Zanies in A Servant of Two Masters. Royal New Zealand Ballet, 1989. Photo: © Martin Stewart (?). Courtesy Gray Veredon