11 June 2021, Drama Theatre, Sydney Opera House
SandSong. Stories from the Great Sandy Desert begins with some black and white footage that is instantly confrontational. Moving sharply from one event to another, and accompanied by an exceptionally loud sound score, it shows some of the atrocities endured by the Indigenous inhabitants of the Kimberley region over an extended period of time. In fact, the work as a whole focuses on the Kimberley area of Western Australia. Program notes tell us that SandSong is 'a journey into ancient story systems framed against the backdrop of ever-changing government policy and of the survival of people determined to hold strong to their Culture.'
The opening footage sets the scene for what unfolds over the course of the performance and a timeline in the printed program expands on what the footage illustrates.
But SandSong had quite a different feel from most of the recent Bangarra productions I have seen. There were strong anthropological references in the early sections. In Act I, the Cold Dry Season, gender divisions in traditional society were made clear in a range of ways. We saw women's business and activities in the form of specific dances, such as a bush onion dance showing the gathering and preparation of this food. We also watched preparations for a totem ceremony in which the men only were involved. As such the choreography was gender specific with the women performing quite simplistic movements at times, as opposed to the men for whom the choreography had more variety, more energy. Often the choreography for the men seemed to border on anger or to look inflammatory, while that for the women seem reserved and calm.
This gender division continued in Act 2, the Hot Dry Season, but changed somewhat as the story continued through the four sections. Particularly dramatic was Act 3 when the community entered a phase of working outside their traditional culture. The opening section, 'Auction' was especially powerful. Were the Kimberley people really being auctioned off for jobs on cattle stations and the like? A feeling of devastation crossed the footlights. Act 4 saw a kind of resolution, however, as healing and resilience began to emerge and by the end, as Rika Hamaguchi made her way around the stage, the anger and humiliation subsided as the dancers expressed their ties to kin and community.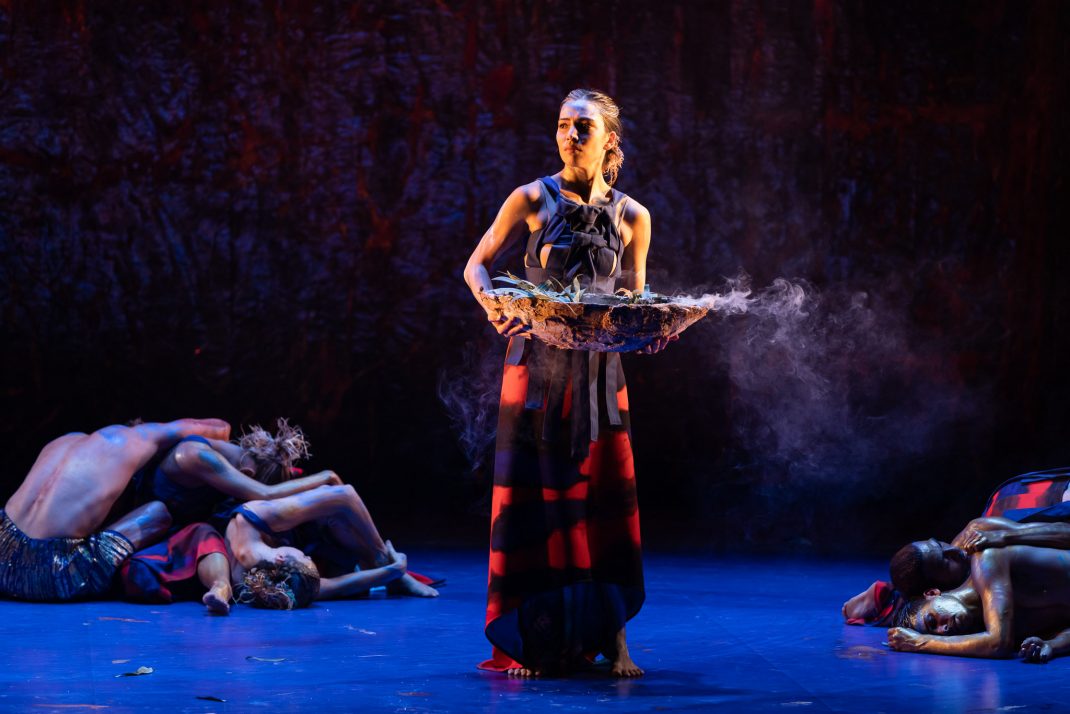 Of the dancers, Beau Dean Riley Smith stood out throughout the show, as he has done for the past several years. While he did not play a specific character as he did, for example, in Macq and Bennelong, his 'maleness' in the early sections was brilliant. It was clear in every movement and every part of his body, including neck and head as well as limbs. I also admired the work of Baden Hitchcock with his fluid and very expressive movement, and of Rika Hamaguchi who had a beautiful serenity at times. But Bangarra is full of new faces. We have much to anticipate I think.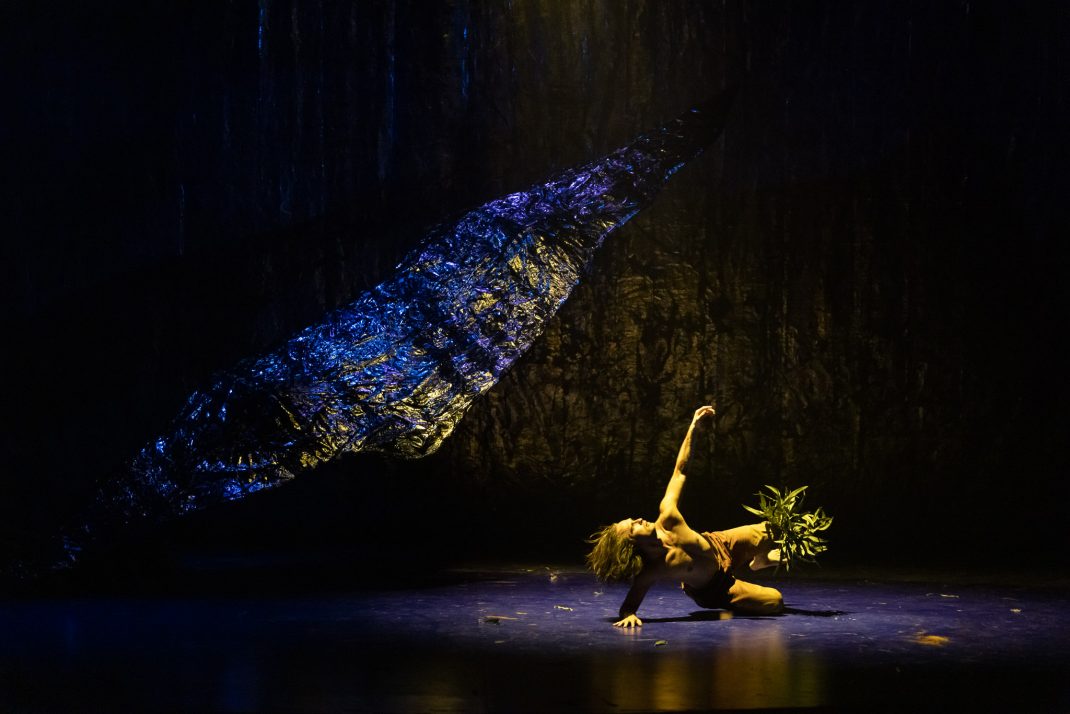 Once again Jennifer Irwin's costumes were simply outstanding, especially in the feathery detail that seemed an essential part of many items, but also in the contemporary feel that her costumes developed towards the end.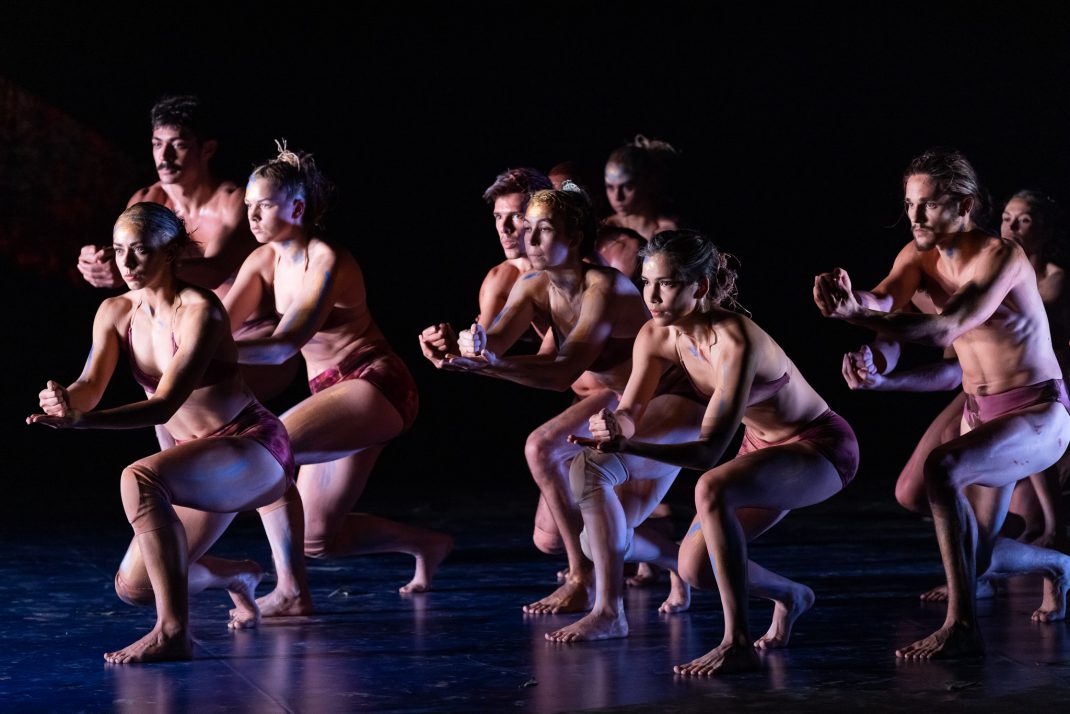 Jacob Nash's backcloth was quite simple and shimmered under the lighting of Nick Schlieper. Steve Francis concocted the score from a range of sources including voice and words along with recordings from previous Bangarra shows.
I came away from SandSong with mixed reactions. It is perhaps a show that needs more than a single viewing for the complexities, not so much of the story, but of the choreographic expression of those stories to become clearer.
Michelle Potter, 14 June 2021
Featured image: Glory Tuohy-Daniell, Rika Hamaguchi and Lillian Banks in SandSong. Bangarra Dance Theatre 2021. Photo © Daniel Boud