20 June 2023
Li Cunxin, artistic director of Queensland Ballet for the past 11 years, today announced that, due to ill health, he will retire at the end of the 2023 season. At the same time, his wife Mary Li, also with health concerns, will retire from her role as ballet mistress and principal repetiteur with the company.
Li's contribution to the growth of Queensland Ballet has been quite exceptional. His input has included a doubling of the number of dancers in the company, which now stands at 48 artists; the development of a young artists' scheme with the Jette Parker Young Artists Program; the growth of an Academy situated at Kelvin Grove State College; the development of the Thomas Dixon Centre as home to Queensland Ballet with the inclusion of a very accessible small theatre; the expansion of company activities to the Gold Coast; and the growth of philanthropy, touring and community activities.
His choice of repertoire has been of exceptional significance too. I have admired in particular his triple bill programs, which always give audiences a varied understanding of the range of styles and subjects that ballet can encompass. Li's Choice in 2022 was outstanding and I described it as 'an absolute cracker of a triple bill [showing] Li as a great director'. He has encouraged the work of Australian. choreographers, both established and emerging, and has also staged works from a range of overseas-based choreographers whose productions have not often (if ever in some cases) been seen in Australia. It is hard to forget, for example, A Midsummer Night's Dream from Liam Scarlett, which was created in conjunction with Royal New Zealand Ballet while that company was under the direction of Ethan Stiefel, and which will tour to Canberra in October.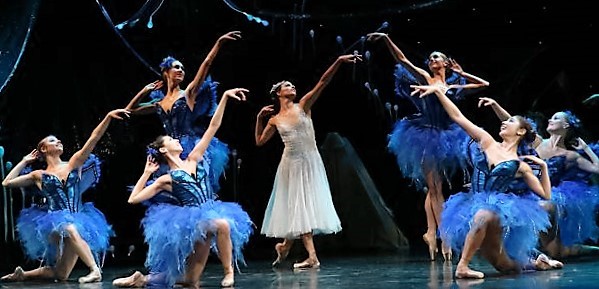 But perhaps more than anything, Li (and his staff of teachers and coaches) has developed the performance standard of the company to a new level of excellence. His dancers perform with such a love of dance and such a desire to give to the audience. They show a strong and visible engagement with all aspects of a production and it is simply heartwarming to watch them.
Speaking of his retirement Li said:
I am tremendously proud of the company I see before me today. Queensland Ballet stands proudly on the world stage in performance, pathways and participation. I will never be far away but as I take this time and the organisation continues to thrive, I know I am leaving the company in a strong position. While I am very proud of the company's growth, the major projects we have undertaken and the dreams we have fulfilled, I'm mostly proud of the fact that Queensland Ballet is completely set up for success. Our foundations are stronger than ever and I'm proud to be a part of that legacy.
Queensland Ballet will begin a search for a new director shortly.
Personal recollections
I have many fond memories of Li in various of his roles from performer to artistic director. In particular I am pleased that I had the opportunity to record an oral history interview with him for the National Library of Australia in 2019 (TRC 6989 currently needing written permission to access). Vivid in my mind too is LI's astonishing leap onto the stage in the opening moments of Jiří Kylián's Sinfonietta with the Australian Ballet in 1997. 'A soaring entrance,' I wrote in Dance Australia, followed by the words 'enthralling jumps and superbly controlled arms'. But perhaps my strongest recollection goes back to c. 1996 when Maina Gielgud was artistic director of the Australian Ballet and was extraordinarily generous in allowing me to watch company classes. I recall on several occasions Li would stay in the studio after class was officially over and practise manège after manège of spectacular grand allegro steps. He would always finish right in front of me, kneeling, and with a flourish of the arms to second position—always a showman.
Li will never retire from being a dancer at heart and I wish him and his wife every happiness in the future.
For more about LI on this website follow this link.
Michelle Potter, 20 June 2023
Featured image: Portrait of Li Cunxin following his award of Officer of the Order of Australia (AO) in 2020. Photo: © David Kelly