David McAllister awarded Queen Elizabeth II Coronation Award
Congratulations to David McAllister, recently retired artistic director of the Australian Ballet. McAllister received the Queen Elizabeth II Coronation Award at a special event in Sydney, an award administered by the Royal Academy of Dance. McAllister joins a group of extraordinary individuals from the world of ballet who have been recipients of this award. They include Frederick Ashton, Maina Gielgud, Robert Helpmann, Gillian Lynne, Rudolf Nureyev and Marie Rambert. McAllister has had what is perhaps an unprecedented career with the Australian Ballet. Following training at the Australian Ballet School beginning in 1961, he was a performing artist with the company for 18 years followed by a role as artistic director for another 20 years.
For posts about David McAllister on this website see this tag. While it is available, listen to this interview with McAllister by Fran Kelly.
But in particular see (and listen) to this enticing McAllister story from the National Portrait Gallery inspired by the Peter Brew-Bevan portrait used as the featured image above.
Tammi Gissell and Mundaguddah
Mundaguddah is a dance/music collaboration between composer Brian Howard and dancer/choreographer Tammi Gissell. It will premiere on 9 May 2021 at the National Gallery of Australia during Australian Dance Week and is a co-presentation by Ausdance ACT and the Canberra International Music Festival. It will have two showings only, at 12pm and 2 pm.
In Mundaguddah (the spirit of the Rainbow Serpent in Murrawarri language), Gissell explores the idea of personal pre-history in a tribute to the Murrawarri spirit who demands we look, listen, and keep moving in the right direction.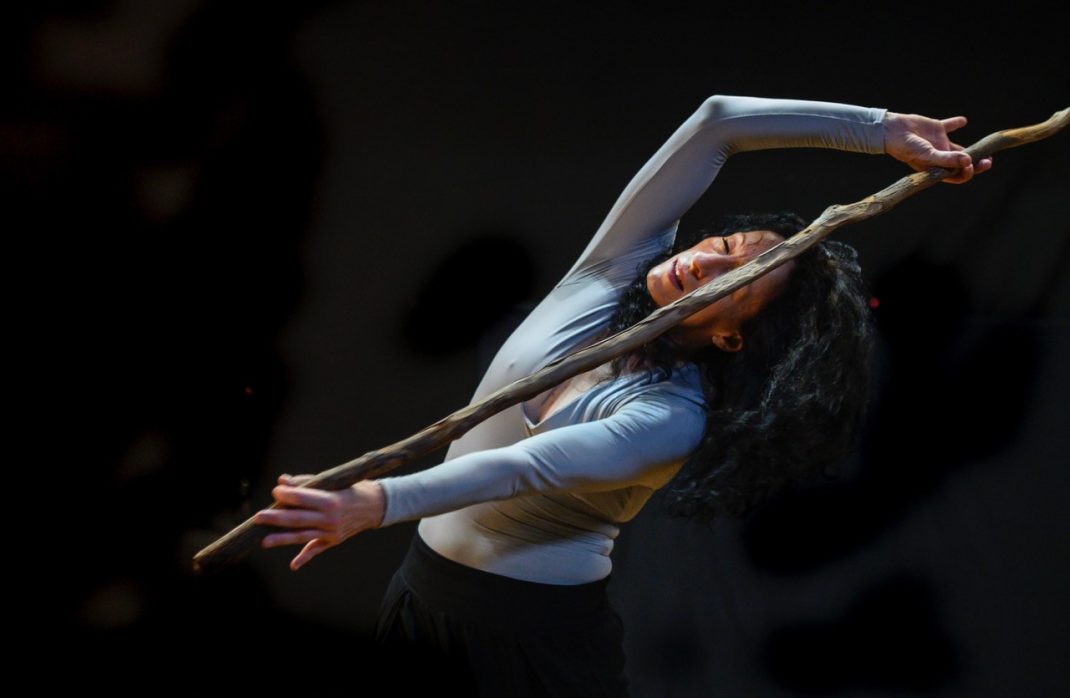 Tammi Gissell has featured previously on this website, especially for her work with Liz Lea. Follow this link to read earlier posts. To buy a ticket to Mundaguddah, and to read a little more about the legend of the Rainbow Servant, follow this link.
The GOLDS. Tenth anniversary
It's a little hard to believe that the GOLDS, Canberra's dance group for older people, is ten years old. But the group celebrated its tenth anniversary in April 2021 with performance excerpts from some of its previous shows, along with a new work, Forever Young, from founder of the GOLDs, Liz Lea. Perhaps the most memorable performance excerpt for the evening was that from Martin del Amo's Grand Finale, which was originally one section from Great Sport!, an award-winning production held at the National Museum of Australia in 2016. Program notes written by del Amo for the Great Sport! show described Grand Finale as, 'A team of elegantly clad men and women. engaged in a mysterious game. Collectively celebrating diverse individuality. On their own terms…'
The celebratory event also included short speeches by a number of people connected with the GOLDs group, including two of the current directors of the group, Jacqui Simmonds and Jane Ingall; founder Liz Lea; and Ruth Osborne who spoke on the role the GOLDs have played with QL2Dance. For more about the GOLDs and their performances see this tag.
Australian Dance Week 2021
In the ACT Australian Dance Week 2021 was launched at Belconnen Arts Centre on 29 April, International Dance Day, by ACT Minister for the Arts, Tara Cheyne. The event celebrated diversity in dance and included a message from Friedemann Vogel at Stuttgart Ballet, along with performances of Indigenous dance as part of the Welcome to Country, as well as short performances of pop n lock, Indian and burlesque dance.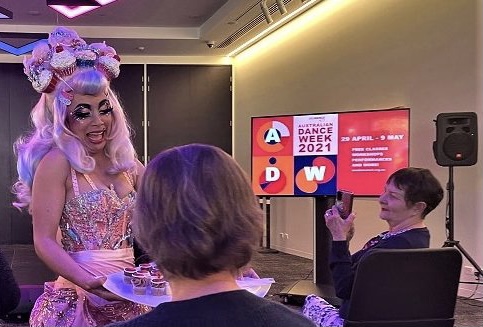 Check out the latest playlist from Jacob's Pillow featuring clips from performances at the Pillow from flamenco dancers. Here is a link. I have never seen flamenco 'on pointe' before, but Irene Rodriguez in the 2019 performance clip from Amaranto shows us how it is possible. Amazing work from her.
Updates and fixes were carried out on the website during April. The main fix was to the search box. It had somehow collapsed and was not retrieving search terms as it should. It is now fixed, thankfully. I also had added, thanks to the team at Racket, a new 'subscribe' option. It is now on the home page just under the box headed 'View full tag cloud'.
Visits to the site have increased dramatically over the past few months with page views going from around 3-4,000 to 8-9,000 a month. Perhaps not surprisingly the most visited area during April was the tag Liam Scarlett.
Thanks to all those who follow On dancing.
From Michelle: Review of The Point by Liz Lea Dance Company. Limelight, 30 April 2021. Online magazine only at this link.
From Jennifer: Obituary for Liam Scarlett. Dominion Post, 30 April 2021, p. 19. Online version,
Michelle Potter, 30 April 2021
Featured Image: The Dance—David McAllister. © 2016 Peter Brew-Bevan. National Portrait Gallery, Canberra