In September I had the pleasure of visiting the National Gallery of Victoria's recent exhibition of works by Edgar Degas, entitled Degas. A new vision. I enjoyed discovering his non-dance paintings and drawings, in particular those that gave an insight into his family and social life. But I especially enjoyed some of his lesser known (to me anyway) dance works, including the two below: Little girl practising at the barre (1878–1880), although it is a shame about the turn-out being forced onto that little body, and Russian dancer (1985).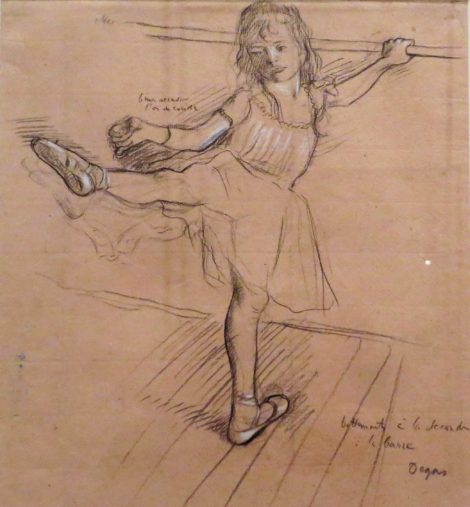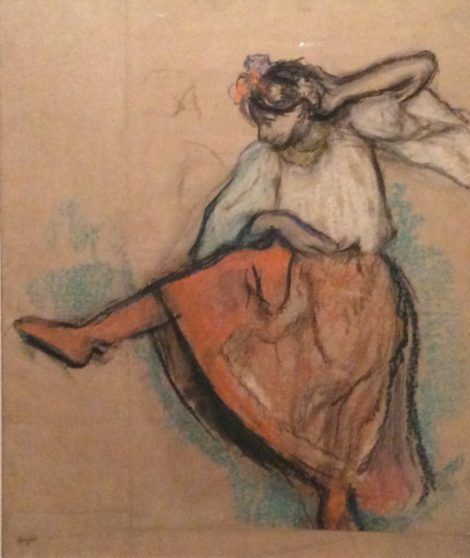 Australian Dance Awards 2016
The 2016 Australian Dance Awards were held in Perth in September and list of awardees is on the Australian Dance Awards website.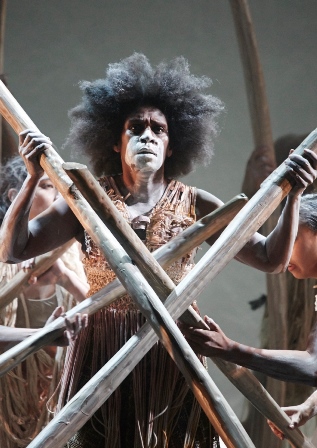 Elma Kris, winner of 'Outstanding Performance by a Female Dancer' at the 2016 Australian Dance Awards seen here in Sheoak from the Bangarra Dance Theatre program lore, 2015. Photo: © Edward Mulvihill
National Portrait Gallery: coming soon
The National Portrait Gallery in Canberra continues to offer short dance events as part of its public programs with Dances for David scheduled for October and a work by James Batchelor coming in early November.
Dances for David—four dances reflecting moments in the career of David McAllister, artistic director of the Australian Ballet—will be performed by Anca Frankenhaeuser, Patrick Harding-Irmer, Julia Cotton and Elle Cahill.  Each work is inspired by a photographic image of McAllister. Dances for David takes place on 15-16 October and 29-30 October.
In November James Batchelor will present Smooth Translation, a commission from the Portrait Gallery, which is being advertised as 'an ode to Barbara Hepworth'. Batchelor's works are often about process of some kind and Smooth Translation purports to be concerned with the process of sculpting a landscape. Intriguing? But then all Batchelor's works are. Smooth Translation is on 5–6 November.
Check the National Portrait Gallery website for more details.
The Australian Ballet in 2017
The Australian Ballet, the national ballet company, once again will not be visiting Canberra, the national capital, in 2017!
'Blood ties.' A look at the career of Bangarra dance Luke Currie-Richardson as Bangarra heads to New York and Paris. The Canberra Times—Panorama, 17 September 2016, pp. 8–9. Online version.
'Circa attains right balance.' Review of Carnival of the Animals. The Canberra Times, 19 September 2016, ARTS p. 34. Online version.
Michelle Potter, 30 September 2016
Featured image: Theatre box (La loge) detail, 1880