Romeo and Juliet: DVD release
Graeme Murphy's Romeo and Juliet was a controversial addition to the repertoire of the Australian Ballet in 2011. It has been one of the most discussed productions on this website and I recall being pleased when I was able to watch a recording where I could rewind sections to appreciate better both the choreography and the dancing. That 'rewind experience' was, however, on a plane and looking at a tiny screen was not ideal. Now the ABC has released a DVD so we can now have the luxury of watching the production at our leisure. It features Madeleine Eastoe and Kevin Jackson in the leading roles.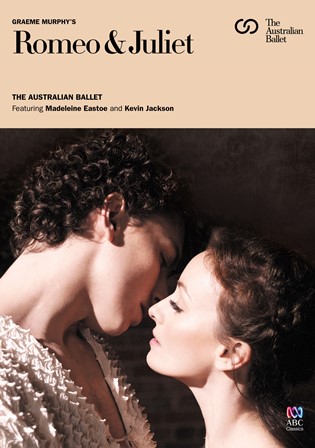 Here are links to previous posts and comments to date:  original review; a second look; on screen.
Ballets Russes exhibition in Moscow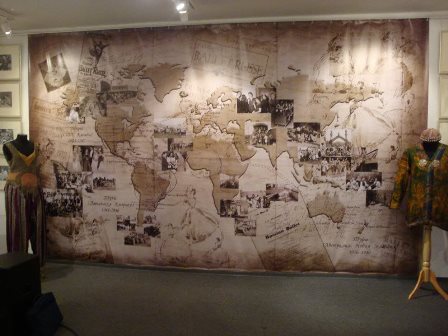 I have received some photographs from the opening of Valery Voskresensky's Ballets Russes exhibition in Moscow. I am curious about the two costumes on either side of the world map as shown above. Scheherazade and Prince Igor? I welcome other comments of course although they are difficult to see due to the lighting.

Mr Voskresensky, who received a number of awards at the opening of the exhibition, also sent a link to an article in Isvestia and as I know there are some Russian speakers amongst readers of this site here is the link. There are also some very interesting costumes shown in one of the Isvestia images.
In August I was delighted to record an interview with NAISDA graduate Thomas E. S. Kelly. Kelly gave a spirited account of his career to date. Kelly graduated from NAISDA in 2012 and has since been working as an independent artist. His work has included several weeks in Dubai with the Melbourne-based One Fire Dance Group when they appeared at Dubai's Global Village celebrations earlier this year.
'Symmetries'. Review of the Australian Ballet's Canberra program, Dance Australia, August/September 2013, pp. 44; 46. An online version appeared in May [but is now no longer available].
'The vision and the spirit'. Review of Hit the floor together, QL2 Dance. The Canberra Times, 2 August 2013, ARTS p. 8.[ Online version no longer available].
'And the awards go to…'. Article on the Australian Dance Awards. The Canberra Times, 6 August 2013, ARTS p. 6. [Online version no longer available].
'What happens when two worlds collide'. Story on Project Rameau, Sydney Dance Company and the Australian Chamber Orchestra. The Canberra Times, 31 August 2013, Panorama pp. 6–7. [Online version no longer available].
Michelle Potter, 31 August 2013